Could this be the best QB final four of all time?
The NFL conference championships always include four strong teams. But this year, they also include four elite quarterbacks.
New England's Tom Brady, Pittsburgh's Ben Roethlisberger, Green Bay's Aaron Rodgers and Atlanta's Matt Ryan are as good as it gets at the QB position.
These four passers have the most wins since 2008, and by next month, they will own a combined 12 Super Bowl appearances, eight titles, and possibly five league MVP awards.
Ryan, Brady, and Rodgers each rank in the top four QBR and Roethlisberger isn't too far off. He's ranked as the 10th best passer in the league.
This Year's Stats
Matt Ryan: Ryan led the NFL in passer rating at 117.1, the fifth-best ever. And this is his first year averaging over 300 yards per game. He is also extremely stable, making 120 consecutive starts in the NFL.
Tom Brady: Brady set a record for best TD-to-interception ratio with 28 scores and two picks. Brady is also going for a record fifth super bowl win this season.
Aaron Rodgers: Rodgers led in TD passes this season with a total of 40. He also ranks first in adjusted yards per pass this season.
Ben Roethlisberger: Big Ben ranks fifth in career touchdown passes and fourth in yards among active players. He also has two Super Bowl titles under his belt.
Matchups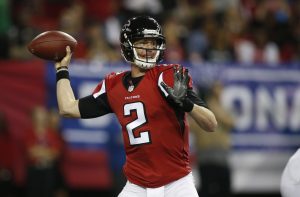 Matt Ryan and the Atlanta Falcons will host Aaron Rodgers and the Green Bay Packers on Sunday with kickoff set for 3:05 p.m.
Ryan said he has a lot of respect for Rodgers and thinks he is a great QB, but right now he has to worry about taking on the Packers defense. 
Tom Brady and the New England Patriots host Ben Roethlisberger and the Pittsburgh Steelers on Sunday starting at 6:40 p.m.