Four-time NASCAR Champion Jeff Gordon retired from racing in 2015. However, it seems Gordon just can't keep off the track. After a FOX broadcasting stint and filling in for Dale Earnhardt Jr. last year, Gordon is back behind his own wheel. This time, he will be participating in his second Rolex 24, competing with Wayne Taylor Racing.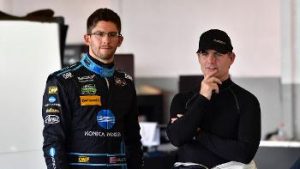 Is This a Surprise?
Although it is not unheard of for athletes to return to their sports after retirement, it seems that Gordon was never fully out. He filled in for a concussed Dale Jr. eight times last year before he began to test for the Rolex 24. He says that when "the right opportunity comes along", he is willing to see how it goes. This unnerving willingness to try hints that this race will not even be the last one for Gordon.
Jeff Gordon readies for racing return, aiming for elusive Rolex 24 victory https://t.co/GmS3OAjfkk pic.twitter.com/XOEYnTWi8m

— Sporting News NASCAR (@sn_nascar) January 7, 2017
A Last Hurrah or a Real Race?
Jeff Gordon may be competing after a year off, but that doesn't mean he is prepared to lose. In fact, he believes that the challenges a driver goes through create enough pride to drive a win. He competed in the Rolex 24 in 2007 with Wayne Taylor Racing. He placed third, but on this second go-around, Gordon may just have the experience he needs to win. After the race, the Advance Auto Parts Clash at Daytona marks the start of a new NASCAR season and another year of broadcasting for Gordon.