The excitement of National Signing Day is awash over the college football world and fans of several schools are unwrapping their new recruits like presents on Christmas Day.
Over the last few years, Alabama and Ohio State have dominated recruiting and 2017 is no different. Each school has a full slate of elite talent that have chosen to don their colors, and each has expanded their reach into Florida, one of the richest wells of football talent.
Greatest Class Ever?
Alabama is on track to either surpass the 2010 Florida class or fall just short of it based on 247sports.com's composite points. After 28 recruits, the Tide have a 320.67 score. Florida had 323.66.
'Bama landed seven top-50 recruits, including a country-best six 5-star players.
Ohio State clicks in with five 5-star players and match Alabama with seven top 50 recruits. The Buckeyes are second in the country with a composite score of 310.97.
Invading Florida
Both teams have set up shop in Florida, tapping into the unlimited resources the state has to offer. Of the combined 49 recruits as of 3 p.m. on Wednesday, 11 have come from Florida. Three of Alabama's four top recruits (OT Alex Leatherwood, LB Dylan Moses and WR Jerry Jeudy) all hail from the Sunshine State.
Here's a breakdown of how the two schools have used Florida over the last six years:
Alabama
2017: #1 class, 9 players from FL
2016: #1 class, 1 player from FL
2015: #1 class, 3 players from FL
2014: #1 class, 0 players from FL
2013: #1 class, 2 players from FL
2012: #1 class, 3 players from FL
Ohio State
2017: #2 class, 4 players from FL
2016: #4 class, 4 players from FL
2015:  #7 class, 3 players from FL
2014:  #3 class, 1 player from FL
2013:  #2 class, 2 players from FL
2012:  #5 class, 0 players from FL
The trend is obvious — these two powerhouses are now real players in Florida, much to the chagrin of Florida, FSU and Miami, the trio that usually dominates the landscape. Ohio State and Alabama's recent invasion hasn't hurt the volume of recruiting (the Gators, for example, have recruited between 13 to 17 players from Florida the last five years), but it has hurt the caliber of players. In the same span, the team has had only five top-50 recruits from Florida — a far cry from 2010, where they had five in that class alone.
Why?
What's driving the elite Florida recruits into the arms of 'Bama's Nick Saban and Ohio State's Urban Meyer? It's an easy question to ask, but one without a rock-solid answer.
For Alabama, it's not hard to be drawn in, regardless what state you call home. The team has won four of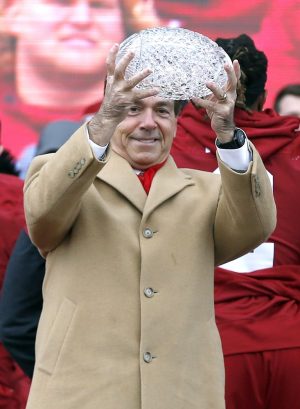 the last championships and has finished the season ranked No.1 in the AP Poll in five of the last nine years. Saban can confidently proclaim that he can win you a ring and chances are, he'll do it.
But it goes beyond the team's trophy case. On Tuesday, ESPN published a piece detailing what it's like to be recruited by Saban, highlighting his 8,759 square-foot house in Tuscaloosa. Saban flashes his diamond-encrusted memorabilia, a private lake, golf carts to race, and more.
"[Saban] has this really, really cool Mercedes everyone was going crazy over," O-lineman Jedrick Wills said. "It was like a sports race car. It looked like it could go about 300 miles-per-hour, it was a charcoal grey that looked brand new. Not a convertible, just a normal sports car. He got in it for us and gassed it up and that thing sounded like a lion."

"When I tell you one of the best cars I've ever seen," Safety Daniel Wright said. "He told us his son modeled it … and [Saban] was the first one to get the AMG Benz because his son did it. [Saban's wife] Miss Terry got in the car and pressed the gas and I tell you, the engine you would not be able to explain."
Buckeye Ballers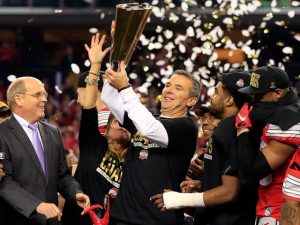 Urban Meyer's Buckeyes don't have the prestige Alabama might, but they'll be damned if they're not just a hair behind. During his five years there, the team has gone 61-5 and won a national championship in 2014. That is to say, much like Alabama, Ohio State's resume speaks for itself. They're the top dogs in the Big Ten and it's always nice to join a team already on top.
But remember that before Meyer rose to prominence with Ohio State, he had already been crowned King of Gainesville. He coached Florida for six years, winning two championships during the Tim Tebow era and finishing his tenure with a 65-15 mark. The man knows how to extract talent from the state and he's always kept one foot in the door even while in Ohio.
A Pain for McElwain
Saban and Meyer's pull certainly hurts the Gators. Combine McElwain's lack of time spent in Florida with Meyer and Saban's résumé and it's easy to see why the top talent gravitates toward the latter group.
McElwain has had only one real year (2017 class) to recruit. While he does has the 2016 class under his name, he had mere weeks to do any real legwork. While at Colorado State, only one of the 72 recruits under his tenure were from Florida. As a result, while he builds ties and creates roots in the state, he's had to rely on the Florida brand to carry itself. The Gators have always been a nationally recognized name, but since the Meyer era, there's been a bit of a downturn. Under Will Muschamp, the team had a lackluster 28-21 record, much of that bolstered by an 11-2 season in 2012.
McElwain has defied odds and started his first two seasons 19-8 with back-to-back SEC Championship appearances (both losses to Saban) and a 1-1 bowl record. He's slowly starting to turn the ship around in the direction of Florida's glory days in the late 2000s. But with Meyer and Saban looming, it won't ever be easy.