The 2017 Amalie Motor Oil NHRA Gatornationals is back in action March 16-19 at the Gainesville Raceway.  Last year's Funny Car class winner, Robert Hight, is back in the contention and looking to leave his mark.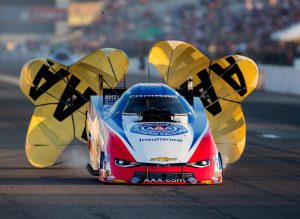 "Fans needs to come out and see this.  It's history in the making this weekend," Hight told Steve Russell.  Click here to find out why Hight believes this weekend will be one for the record books.
Best of the Best
Hight races for the John Force Racing team, a hallmark in the Funny Car racing class.  He is the first driver in NHRA history to begin his career by winning multiple titles each season.  He is no stranger to the NHRA spotlight and success.  He has a total of 49 No. 1 rankings in his pro career, making him 12th in NHRA history.
"It's a funny thing.  Sometime drivers have really good luck at certain events and, you know, poor luck at other events.  Truthfully I think it's more of a confidence thing than anything else," Hight told Steve Russell on Monday.  "Confidence is everything in racing.  You've got to believe in yourself, believe in your team.  That's really what it's about."
Hight became president of John Force Racing in 2012, and still holds the position.
.@JFR_Racing is undergoing a major change after just two races in 2017. https://t.co/bSPpZ9ifu9 @JohnForce_FC @roberthight7000

— SPEED (@SPEED) March 9, 2017
Race Team Looks to Repeat
Hight's win last year at the event wasn't only special for himself, but also for his team.  It was the first time in the team's history that two racers won their class.  Hight won in Funny Car and Brittney Force won in Top Fuel, making it her first NHRA victory.  Click here to find out why the 2016 victory was so important.
2017 Gatornationals
The event runs March 16-19 at the Gainesville Raceway.  You can find ticketing information here.