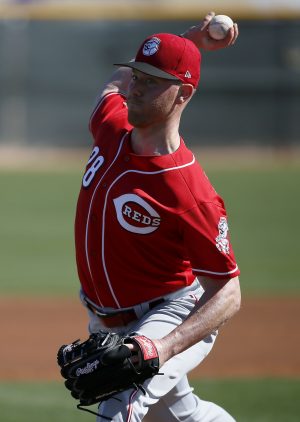 Former Gator and current Cincinnati Reds pitcher, Anthony DeSclafani, has been scratched from his Cactus League debut today vs. the A's due to soreness in his throwing elbow. DeSclafani left camp yesterday to head back to Cincinnati for an MRI and further examination. He struggled with this soreness in the beginning of camp and received treatment for it. But the soreness returned when DeSclafani was throwing in the bullpen on Friday getting ready for today's games. This will be his second year missing the season open due to injuries.
DeSclafani was set to start on opening day last season before he strained an oblique late during camp. The injury caused him to miss the first two months of the season. Upon recovery, DeSclafani ended up making 20 starts and going 9-5 with a 3.28 ERA. With the opener only three weeks away, this injury could be put DeSclafani on the disabled list for the second straight year.
Team update
Red's president, Dick Williams, says that they will know more about the severity of his injury after further testing and discussing the results with the doctors. DeSclafani played for the Gators between 2009-2011.
Reds president, Dick Williams gives an update on Anthony DeSclafani's elbow injury https://t.co/g9pqtCQkE6

— Jennifer Stehlin (@JenniferStehlin) March 13, 2017