The Alabama Crimson Tide (19-14) prepare for a first round matchup with the Richmond Spiders (20-12) in the National Invitation Tournament.
Tip-off: Tuesday, March 14 9:15 p.m. on ESPN2
Location: Coleman Coliseum Tuscaloosa, Alabama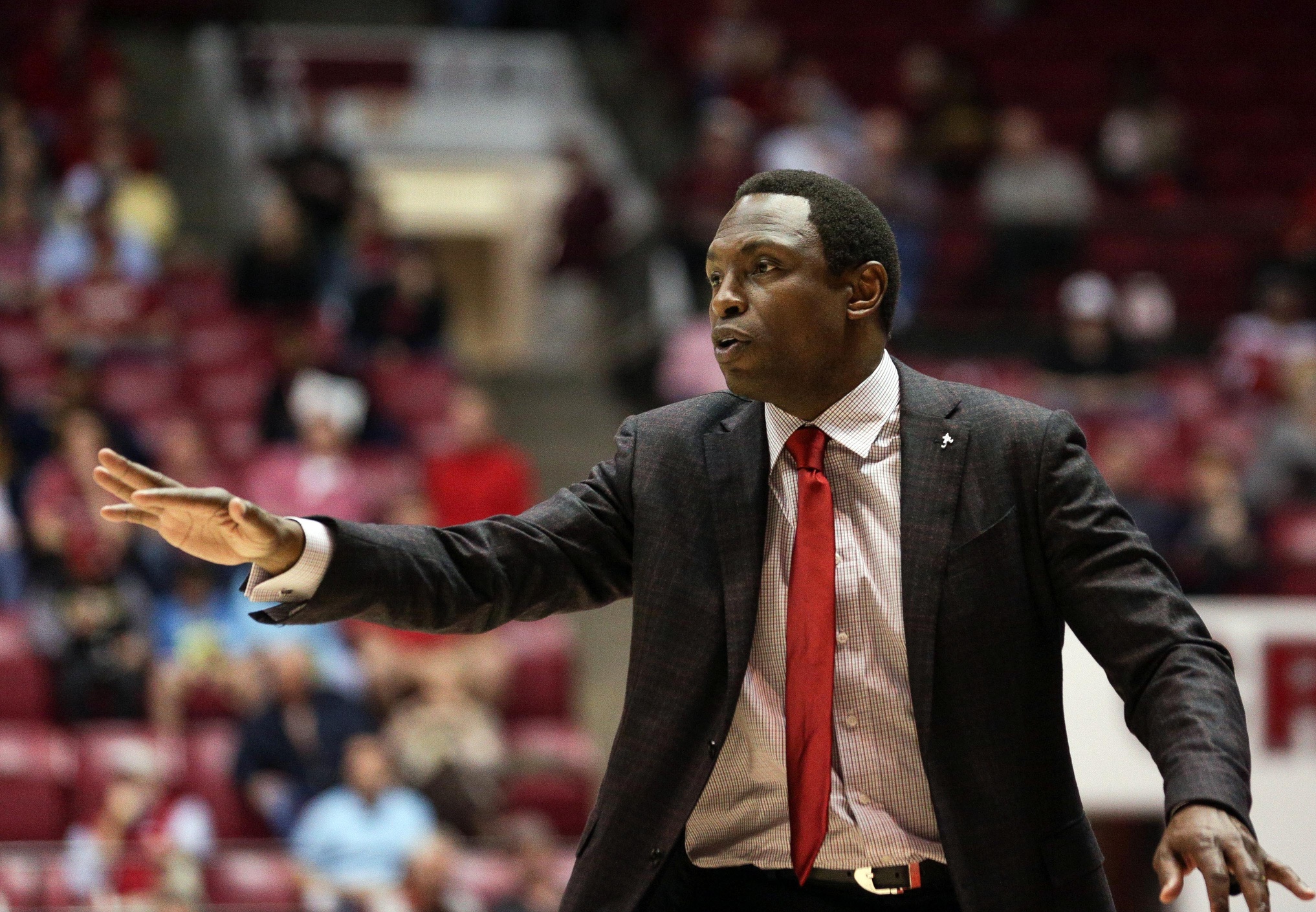 Alabama basketball coach Avery Johnson said this week that he felt like his team played its best basketball of the season during its three-game SEC Tournament performance.  Johnson took away plenty of positives from the conference tournament, which included wins against Mississippi State and NCAA Tournament-bound South Carolina.
He'd like to see that momentum continue Tuesday night when the third-seeded Crimson Tide meet No. 6 seed Richmond from the Atlantic 10 in Tuscaloosa in the first round of the 2017 NIT Tournament.
Alabama is making its third consecutive appearance in the NIT and Richmond is making its second visit in the past three seasons.
The University of Alabama announced Monday that the first 500 students will be admitted free a charge.
Keys to the Game
Alabama holds a significant size advantage over the Spiders' starting lineup.  This should help the Crimson Tide on the boards, as they have a plus-5.5 rebounding margin on the season, which ranks 31st nationally.  Comparatively, the Spiders have struggled securing boards this season, posting a minus-5.5 margin (312th nationally).  Richmond relies on ball spacing, starting four guards around the versatile Senior forward T.J. Cline. Richmond's ball spacing and quicker guard-oriented lineup could adversely pose problems for the Crimson Tide on the perimeter.
Alabama prides itself on its stingy defense.  The Crimson Tide rank 31st in the nation in scoring defense allowing just 64.5 points per game and 21st in field goal percentage defense  holding opponents to 40.1% shooting from the field.  Forward Braxton Key and guard Dazon Ingram are the catalysts for the Crimson Tide — that's no secret and it showed in the SEC Tournament run.
The Spiders will rely heavily on their savvy Forward T.J. Cline, the Atlantic 10 Player of the Year.  The 6-9 forward does it all. He averages 18 points, 7.8 rebounds and 5.7 assists per game and he shoots 51 percent from the floor. Twice this season he's recorded triple-doubles.  Cline isn't Richmond's only scorer — the Spiders have four players averaging double figures. Shawn'Dre Jones averages 16.8 points, Khwan Fore (11.0) and De'Monte Buckingham (10.3).
Here's a quick glance at how the two teams match up on paper: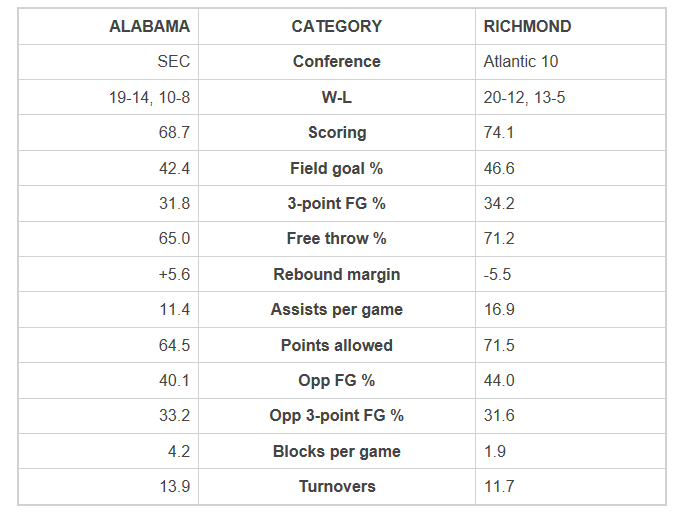 Common Opponent Knowledge
Dayton is the lone common opponent between Alabama and Richmond.  The Flyers beat Alabama by 5 points early in the season in Tuscaloosa and handled Richmond by 16 in Dayton in January.
-Dayton outrebounded Richmond 31-30; Alabama outrebounded Dayton 40-28
-Dayton shot 48.9% from the field against Richmond; Dayton shot 54.5% against Alabama
-Richmond shot 2-20 from 3-point range; Alabama went 6-23 from distance