If you take a look at Duke's schedule this season, you might not see why they're one of the best teams in college basketball. The Blue Devils went 27-8 this season with some bad losses to Virginia Tech and at home vs. NC State, the ACC's third worst team. Despite losing three of their final four games, the Duke Blue Devils looked like a different animal in the ACC Tournament. Duke ended up winning the ACC title this season, taking down Clemson, Louisville, North Carolina and Notre Dame en route to an Atlantic Coast Conference Ring. The committee said Duke made up the most ground, seed wise, in the past week. Rising from a four-seed to a two-seed, the Blue Devils are poised for a long run in the big dance.
Tourney teams w top 40 KenPom D and DraftExpress projected NBA guard:
Nova
KU
Gonz
UK
Louisville
Duke
Arizona
FSU
SMU
Cincy
S. Car.
Miami

— Mark Titus (@clubtrillion) March 14, 2017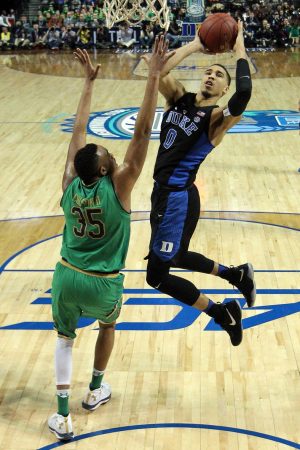 Why Did Duke Lose Eight Games?
This question can be answered simply. The Blue Devils lost these games because of injuries to their players and legendary coach, Mike Krzyzewski. Coach K missed seven games this season following back surgery. During that stretch, Duke went 4-3, losing one of those contests to NC State at home. If the Blue Devils play that game 1,000 times, Duke wins it 999. Dennis Smith Jr. and company mustered up a miracle victory in Durham that day. Grayson Allen, Amile Jefferson, Frank Jackson, Jayson Tatum, Harry Giles and Marques Bolden have all missed games this season due to some form of injury. The Blue Devils have played fewer than seven games this season at full strength. Despite this, Duke has impressive wins over Florida, Miami, Notre Dame, UNC, Virginia, FSU and Louisville.
What Makes Duke So Deadly?
The Blue Devils can score at will, averaging 82.2 points per game in their past five contests. Duke is averaging 80.7 points per game on the season, which ranks 28th in the nation. The offense is led by national player of the year candidate, Luke Kennard, Jayson Tatum and Grayson Allen. The three-headed offensive monster averages a combined 51.1 points per game. Kennard is a deadly sharpshooter, averaging 20.1 points per game on 49.9% shooting from the field and 44.3% shooting from beyond the arc. Tatum has the ability to get to the rim better than almost anybody in the nation and records just under 17 points per game. Finally, there's Grayson Allen, one of the most polarizing players in the nation. While the junior leader has been disciplined not once, but twice this season for tripping and conduct incidents, he's a core part of this team, and has been for the past three seasons. Allen is notching 14.1 points per contest and is shooting 45.4% in his last three games.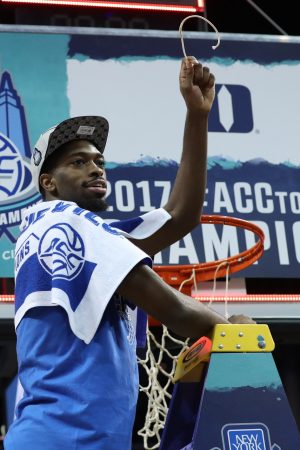 The Bracket
This writer has Duke making a run to the Elite 8 before losing to the Villanova Wildcats, but we'll preview the Blue Devils' track in the NCAA Tournament. Duke opens up the tournament with a match-up vs. Troy, the champions of the Sun Belt Conference. As an avid college basketball fan, I can assure you that the Trojan weren't even the first, second, third or even fourth-best team in their conference. UT-Arlington, Georgia State, Texas State, Arkansas State and even Georgia Southern finished with higher regular season records. The first round should be a breeze for the Blue Devils.
Round of 32
If you take the higher seed of the portion of the bracket they're matched up with, the Blue Devils have a date with the South Carolina Gamecocks in the Round of 32. The Gamecocks are a lockdown defense, which could give Duke some trouble, but have had a hard time scoring as of late. SCAR is averaging a measly 62 points per game in their last three contests, a full 10 points per game lower than their season average. With the way the two teams are trending, Duke should be able to pick up another victory.
Sweet 16
If you take the higher seed once again, the Blue Devils will have a match-up with the Baylor Bears in the Sweet 16, although I believe that it'll be SMU who they' play in that round. The Bears have lost four of their past six games, exiting the Big 12 tournament with a loss to Kansas State. While Johnathan Motley is a beast in his own, the Blue Devils are simply deeper than Baylor. Advantage Duke.
Elite 8
If Duke wants to make the Final Four, they'll more than likely have to go through defending champ, Villanova. While the Blue Devils are deep, the Wildcats are poised for another Final Four run. This might be where Duke's tournament ends. With a win though, the Blue Devils will advance to their third Final Four in seven years.
Where to Watch
Duke faces off against Troy on Friday, March 17 at 7:20 p.m. on TBS. The game will take place at Bon Secours Wellness Arena in Greenville, South Carolina, which is a roughly three and a half hour drive from Durham.
https://twitter.com/DukeMBB/status/841363492271738880