Friday night's matchup at Madison Square Garden, the mecca of college and pro basketball alike, features two teams each with a lengthy history of their own. Despite having only one national championship (1941), the Wisconsin Badgers have made the Final Four in two of their past three seasons and have made the NCAA Tournament 27 times in program history. The Florida Gators have won two national championships, going back-to-back in 2006 and 2007, and have made the Sweet 16 in five of the last seven years.
The Gators and the Badgers will square off on Friday night around 10 p.m. in New York City in the Sweet 16 and regional semi-final of the East Region. The two squads have met four times before, splitting the four match-ups. In their most recent game, 20th-ranked Wisconsin took down 11th-ranked Florida in Madison, 59-53, in November of 2011.
Most combined bowl game and NCAA tourney appearances since 1996, per UW release.
40 #Wisconsin
35 Florida
34 Texas
34 Michigan State

— Jon McNamara (@McNamaraRivals) March 21, 2017
Gator Sound from Thursday, March 23
#HesterGotHops pic.twitter.com/SWNf5rcdbe

— Jake Winderman (@jakewinderman) March 23, 2017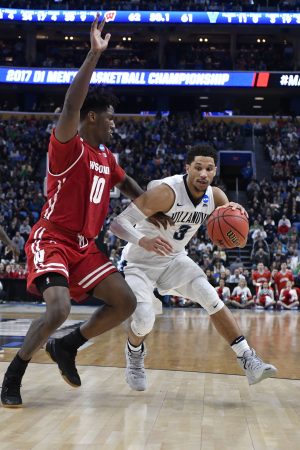 Wisconsin's Interior Advantage
The combination of Ethan Happ and Nigel Hayes is one of the best frontcourts in basketball. Hayes can get it done from the three-point line, mid-range area and interior alike. Ethan Happ garners one of the most impressive post games in the nation.
Happ is the team's leading rebounder and is averaging 13.8 points and 9.1 rebounds a game. He's ranked 30th in the nation in field-goal percentage, knocking down 58.4 percent of his shots. He's had 10 double-doubles this season and has five blocks in his last two games. Ethan also ranks 33rd in the nation in offensive rebounds per game (3.2 ORPG). Happ's only downfall is his horrid free-throw percentage. He only sinks 49.4 percent of his shots from the charity stripe.
Nigel Hayes is in his fourth-year with the Badgers and amazingly has never missed a game. He's played in 149 games for Wisconsin and has averaged at least 32.3 minutes per game since his sophomore year. Hayes has eight double-doubles this season and is averaging 13.8 points and 6.6 rebounds per contest on 45.2 percent shooting from the field. He's also scored at least 16 points in three of Wisconsin's last four games.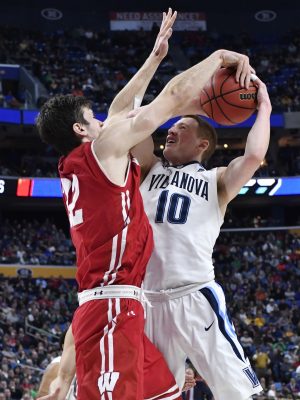 Statistical Overload
Before listing the Badgers' lengthy list of successes, we must first assess their most glaring downfall. Wisconsin is shooting 64.3% as a team from the free-throw line, which ranks 332nd out of 351 Division 1 schools. In their last four games they've shot 43.8 percent, 76 percent, 75 percent and 66.7 percent from the free throw line. Those numbers just don't cut it in the NCAA Tournament if you're going for sustained success.
The Badgers thrive on their ability to play clean, efficient defense, rebound on the offensive glass and refrain from committing turnovers.
Wisconsin ranks 11th in the NCAA in points per game allowed (61.8 PPGA), 20th in rebound margin (+6.4), t-23rd in personal fouls committed per game (16.0 FPG), 24th in scoring margin (+10.3), 26th in turnovers committed per game (11.0 TPG), 36th in offensive rebounds per game (12.5 ORPG) and 41st in field-goal percentage allowed (41.1% allowed).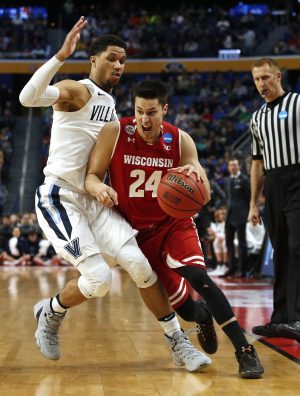 The Wisco Kid
Last but certainly not least, it is impossible to think of Wisconsin over the last half of a decade without remembering Bronson Koenig, the senior from La Crosse, Wisconsin. Koenig is the team's leading scorer, averaging 14.5 points per game on 42.2 percent shooting from the field. He knocks down an impressive 39.5 percent of his attempts from downtown and even ranks t-26th in the nation in total three-point field goals made this season (253 total).
Koenig is the only reason Wisconsin doesn't rank dead-last in free-throw percentage, as he has made an incredible 90.2% of his free throws this season. He's had nine 20+ point games this year and is shooting 48.3 percent from deep in his last three games. Koenig is also averaging 20 points per game in that same span.
What Has Gone Right For Florida So Far?
The Gators are shooting 47.1percent from the floor and 34.9 percent from beyond the arc in the NCAA Tournament. They're also averaging 37 rebounds and 13 assists per game. Devin Robinson has been exceptional in the big dance, recording 19 points and 9 rebounds per game, shooting 60 percent from the field and 44.4 percent from beyond the arc. Chris Chiozza has also been vital in the team's past two games, averaging 10.5 points, 4.5 rebounds, 4 assists and 1.5 steals in an average of 25.5 minutes per game. The Gators have also held their opponents to 35.3 percent shooting from the floor.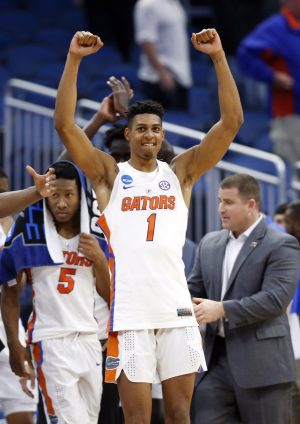 What Has Gone Wrong For Florida So Far?
Despite their record of 2-0 in the NCAA Tournament, the Gators have somewhat struggled at the free throw line. Florida has sunk 71.1 percent of their attempts from the charity stripe in the NCAA Tournament. While that number might hold up in the regular season, many tournament games, in the closing minutes, come down to the ability to knock down free throws. If UF can't do this vs. Wisconsin, they may be packing their bags after only three games.
Although he's made 90 percent of his free throws in the NCAA Tournament, Canyon Barry must get his offensive game going more. He's only averaging seven points per game, with four total rebounds in the entire tournament. On top of that, he's shooting 25 percent. All hands must be readily on deck vs. the Badgers, including the SEC's best sixth-man.
KeVaughn Allen, as Mike White described, has been playing some of his best defense of the season. His offense, on the other hand, has been all but completely missing. Allen is 3-21 from the field and 1-13 from beyond the arc in the NCAA Tournament. He's averaging 5.5 points and has 0 rebounds in the big dance. In the near future, a goose egg from KeVaughn Allen could lead to the Gators' demise.
#AirHayes pic.twitter.com/kaI5pgcaVf

— Jake Winderman (@jakewinderman) March 23, 2017
Overall Efficiency
Florida ranks third in defensive efficiency and 26th in offensive efficiency, per KenPom. Wisconsin ranks 35th in offensive efficiency and seventh in defensive efficiency. In KenPom's overall adjusted efficiency rankings, the Gators are third, while the Badgers are 21st. The Gators opened as a 1.5-point favorite, with the over/under set at 132.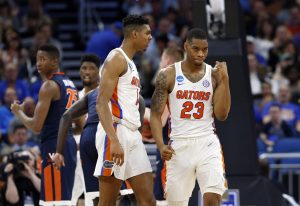 Gator Bites
How to Watch and Listen
Friday's game is set to tip-off at 9:59 p.m. from Madison Square Garden in New York City on TBS, but won't start until the Baylor-South Carolina game, which is set to tip-off at 7:29 p.m., has been over for at least 30 minutes. You can listen to the game on the Gator IMG Sports Network and nationally on Westwood One radio.
Canyon being Canyon pic.twitter.com/VRkNrBQ7eN

— Jake Winderman (@jakewinderman) March 23, 2017
Since the turn of the century @GatorsMBK has stacked up against the best programs in college basketball history. #marchmadness pic.twitter.com/KGsJrcTTce

— Paul Finebaum (@finebaum) March 21, 2017
The Joe Wagner Fund
Folks, I know that WRUF.com is strictly for sports, but I'd appreciate if you took the time to read the following paragraph. My good friend Joe Wagner was involved in a horrific motorcycle accident earlier this week and is currently fighting for his life at Shands Hospital. He suffered skull, chest, arm and other fractures, cuts to his brain, bleeding in his cranium, a collapsed lung and other terrible injuries from the crash.
Joe's family lives in Germany and had to fly all the way from Europe to come see and monitor him in his battle for his life. If you wouldn't mind taking the time to donate and/or share the link below, it would mean everything to me. The fund goes towards his medical expenses.  Sports are an important part of my life, but family and friends should always take precedence. Joe is one of the most kind-hearted people you will ever meet and would do anything for anyone, whether it be his best friend or a complete stranger. Please help my friend Joe, a fellow Gator, in any way that you possibly can. Whether if be through donations, shares or prayers,  anything helps.