The No. 15 ranked Florida Gator men's team will face the Florida Gulf Coast University Eagles in the first round of the NCAA Tournament. Action at the Alfred A. Ring Tennis Complex will begin at 5 p.m. Florida had an 17-9 overall record in the regular season.
For the past 18 years, the University of Florida has hosted the first and second round of the tournament 14 times. This will be the 26th consecutive time that the men's team will play in the NCAA tournament. The first time that they participated in this tournament was in 1991. This will be the fifth time that Bryan Shelton, Gators head coach, lead the team to the NCAA tournament.
"We are super excited about the opportunity to host the first two rounds here at UF. That was certainly one of our goals as we started this season." Shelton said. "We have three really good teams joining us here. Our preparation for this tournament has already begun and I know our guys will be ready."
Florida will face the Eagles for the first time. The Eagles had a 10-12 overall record in the regular season.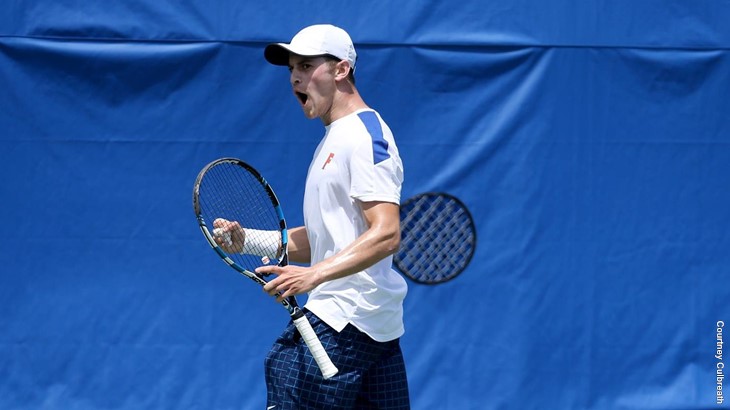 Experience Against NCAA Caliber Teams
Florida has had an impressive run against solid teams this season. In their 24 matches, they faced 15 teams that were selected to compete in the NCAA tournament. They have an 8-8 record in those matches.
The Gators hope that finally this will be the year that they advance further the quarterfinals. Their last NCAA semifinals appearance was in 2005, when they lost 4-1 against Baylor University.
Seniors Max Lipman and Elliott Orkin hope to go to Athens, Georgia, and finish their college careers at the highest level by lifting the NCAA trophy. Both players have had amazing careers representing the Gators. They have a 72-46 and 100-48 career records respectively.
The Gators should feel motivated entering to this tournament thanks to the great individual performances during the regular season. Alfredo Perez, Orkin and Johannes Ingildsen won conference awards this season, per floridagators.com. Perez and Orkin were named First Team All-SEC while Ingildsen was named SEC All-Freshman Team.
It's #NCAATournament time.

🐊🎾 vs. @FGCU_MTEN 🦅
❓#NCAATennis first round
🕔 5:00 PM
📍Ring Tennis Complex
👀📊📺https://t.co/90BB5qYyaJ pic.twitter.com/qHwtGquhIo

— Gators Men's Tennis (@GatorsMTN) May 12, 2017
The winner of this match up will be facing the winner between the Georgia Tech Yellow Jackets and the University of Minnesota Golden Gophers on Saturday, May 13.