On Wednesday the Florida State Attorney's Office dismissed a battery complaint against Cleveland Browns defensive lineman Caleb Brantley, citing "insufficient evidence to sustain a conviction" as the reason for the dismissal.
The incident stems from an early morning conflict on April 13 where he denied a request for a sexual encounter with a woman in Gainesville.
There have been conflicting reports on the altercation. In the initial police report, the Gainesville Police Department listed Brantley as a victim, saying that he was punched by the woman and he shoved her off him. But another police report four days later said Brantley punched the woman and knocked her unconscious. In a sworn affidavit, a security guard recounted the first event, where Brantley pushed the woman.
The State Attorney's office got involved after police recommended a misdemeanor battery charge.
Here's the full press release: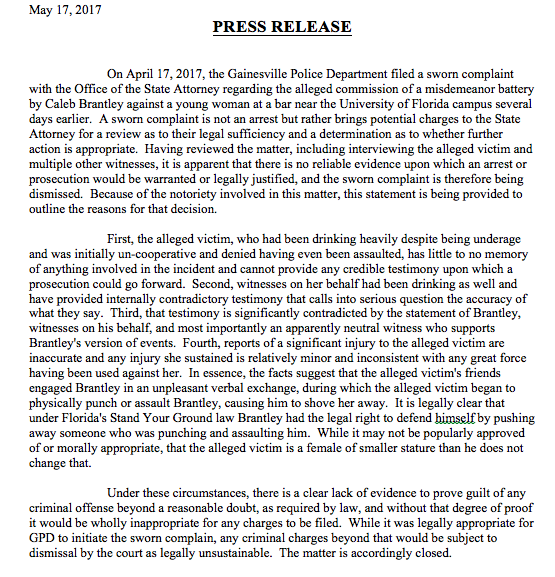 In the statement, the State Attorney's Office cited several reasons why they dropped the case.
"First, the alleged victim, who had been drinking heavily despite being underage and was initially un-cooperative and denied having even been assaulted, has little to no memory of anything involved in the incident and cannot provide any credible testimony upon which a prosecution could go forward.

Second, witnesses on her behalf had been drinking as well and have provided internally contradictory testimony that calls into serious question the accuracy of what they say.

Third, that testimony is significantly contradicted by the statement of Brantley, witnesses on his behalf, and most importantly an apparently neutral witness who supports Brantley's version of events.

Fourth, reports of a significant injury to the alleged victim are inaccurate and any injury she sustained is relatively minor and inconsistent with any great force having been used against her."
NFL Draft Effect
The cloud of uncertainty plummeted Brantley's draft stock. Originally projected to be an early-round pick, he went 188th overall, in the sixth round, to the Browns.
"It is obvious that the State Attorney's Office did a thorough investigation into this case," said Amy Osteryoung, one of Brantley's attorneys, to the Tampa Bay Times "It should be equally apparent that we agree with his decision.
"I spoke with Mr. Brantley and he is both relieved and thankful this investigation has concluded. He is looking forward to beginning the next chapter in his life with the Cleveland Browns."
Brantley was a strong contributor at his time in Florida. He notched 81 tackles and finished his redshirt junior season on the second-team All-SEC.