As always, it has been an exciting season in college football. Every week teams have been dancing around the top 25 poll and fighting to prove their worth. Tuesday night, the College Football Playoff selection committee released the initial playoff rankings.
The battle for playoff poll dominion between two SEC teams
If the undefeated seasons continue as they have for the Bulldogs and the Crimson Tide, the two will play each other in the SEC title game set for December 2nd. The Championship matchup is likely to cut the losing team out of playoff contention, although not guaranteed.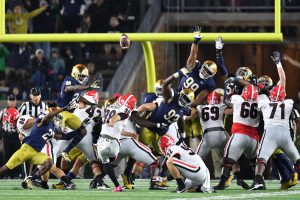 No. 1 Georgia Bulldogs
The decision for No. 1 was no doubt a tough one, but many were surprised to see Georgia above fellow SEC competitor Alabama. Alabama topped the polls week after week the first 9 weeks of the regular season. Connor Riley of SEC Country quotes chairman Kirby Hocutt,
"The debate,  as passionate as the discussion for teams 3 through 7 was,  was even more passionate for teams 1 and 2"
Hocutt continued with the committee's reasoning for the ultimate decision. Both teams are 8-0 and a number of those wins were blowouts for the Bulldogs and for the Crimson Tide; however, it's not the blowouts that got the selection committee's attention. Hocutt explained that while Alabama was undeniably relentless, it was Georgia's two victories over ranked teams that earned the Bulldog's their spot. The more notable of these is the Bulldog's 20-19 win over No. 3 Notre Dame in Week 2. Georgia also defeated No. 16 Mississippi State in Week 4. Alabama is yet to play a ranked team.
It's been a while since CFP No. 1 Georgia has been at the top of the college football world. #SCFacts pic.twitter.com/f0dTGMWxeF

— SportsCenter (@SportsCenter) October 31, 2017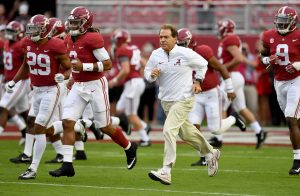 No. 2 Alabama Crimson Tide
Although slighted for the No. 1 spot, Alabama Head Coach Nick Saban and the Crimson Tide undoubtedly deserve a spot in the top 2, landing the them at No. 2. Alabama will take on their first ranked team in Week 10, when the Crimson Tide rolls into Bryant-Denny Stadium to face No. 19 LSU. This will give Alabama a chance to prove themselves as No. 1 if they fight for it, but a loss would be detrimental. Alabama has to play well enough to show superiority over the Bulldog's who will have an opportunity to defeat No. 14 Auburn Week 11.
The decision for No. 3 and No. 4 also a close call
The competition was close between No. 3 Notre Dame and No. 4 Clemson as well, each with a 7-1 record. Both have had comparable schedules thus far and impressive wins. According to Jerry Palm of CBS Sports, it was the losses, not the wins, that determined these spots. While Clemson only lost once to unranked Syracuse, the Fighting Irish's single loss was to No. 1 Georgia.
Oklahoma takes this one; Ohio State is now 1-1 with Army coming in next week #OSUvsOklahoma pic.twitter.com/XcG9N2FpMw

— 10TV.com (@10TV) September 10, 2017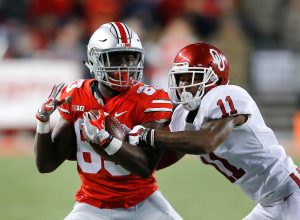 A head-to-head look at Nos. 5-7
The Oklahoma Sooners check in at No. 5 above Ohio State simply because Oklahoma went away with the victory when they faced each other, Hocutt says. The Sooners' schedule may not have been as impressive, including Kansas and Baylor who combine for a 1-15 record this season; nevertheless, when the teams met each other at Ohio State back in Week 2, Oklahoma won 31-16.
Similarly, Ohio State takes No. 6 over No. 7 Penn State in the initial playoff rankings after Week 9's rally for a 39-38 win at Ohio Stadium.
Complete initial playoff rankings
1. Georgia (8-0)
2. Alabama (8-0)
3. Notre Dame (7-1)
4. Clemson (7-1)
5. Oklahoma (7-1)
6. Ohio State (7-1)
7. Penn State (7-1)
8. TCU (7-1)
9. Wisconsin (8-0)
10. Miami (7-0)
11. Oklahoma State (7-1)
12. Washington (7-1)
13. Virginia Tech (7-1)
14. Auburn (6-2)
15. Iowa State (6-2)
16. Mississippi State (6-2)
17. USC (7-2)
18. UCF (7-0)
19. LSU (6-2)
20. NC State (6-2)
21. Stanford (6-2)
22. Arizona (6-2)
23. Memphis (7-1)
24. Michigan State (6-2)
25. Washington State (7-2)