The Houston Astros looked like they were cruising to their first World Series win, but then the resilient Los Angeles Dodgers did it again to force a must-see Game 7.
Decisive Sixth Inning
The sixth-inning of Game 6, of the 2017 World Series, will be remembered forever, especially if the Dodgers are able to win Game 7.
Due in large part to Justin Verlander's shutdown pitching prior to that huge sixth-inning, it looked like the Houston Astros were going to win their first World Series. Verlander was pitching a one-hit shutout that could have been one of the best World Series performances ever. That all came to an end by the play of an unlikely hero, 38-year-old Chase Utley.
Utley did not even start the game for L.A., he was brought in as a substitute for Logan Forsythe in the top of the sixth. Utley had been hitless in the postseason, but Dave Roberts still had confidence in him. The first of two big plays by Utley was a leaping catch to get the Dodgers out of a two on and two out jam.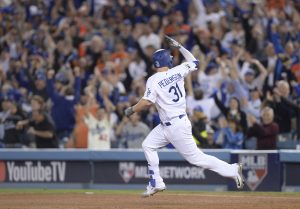 Then, Utley stood in there against Verlander and battled until a pitch got away from the ace and hit Utley in the ankle. This put the Dodgers in a two on and nobody out situation, which made it a nearly must-score inning. This is when the Dodgers unbelievable depth and balance showed again. Chris Taylor came through again with an RBI double, which moved Utley to third.
Then, Corey Seager hit a deep sacrifice fly than nearly got over the wall. And just like that the Dodgers took a 2-1 lead. They never looked back, as Joc Pederson hit a homer to left in the bottom of the seventh. Pederson credits a group effort for his team's success. The Dodgers would go onto win 3-1, and force a game seven.
Astros Missed Opportunities
It is hard to imagine Houston won't be kicking themselves, after they let Game 6 get away from them. They were in control for the majority of the game, but they missed their chances to put the Dodgers away.
In the fifth-inning, they had two on with no outs and failed to even bring one home. Then again, in that decisive sixth inning, they had two men on base with two outs and were unable to score any.
Plus, Verlander and the Astros had three 1-2 counts against the Dodgers in the sixth and still gave up the tying and go-ahead runs.
Game 7
Even after the disappointing game six for Houston, manager A.J. Hinch knows that anything can happen tonight. 
Game 7 is tonight in Dodger Stadium, and first pitch is set for 8:20.