Junior defensive lineman Taven Bryan doesn't want to hear the outside noise.
Bryan is in the midst of his best year at the college level. Bryan currently leads the Gators in sacks with three so far. He is also top five on the team in both tackles and tackles for a loss.
Focusing On The Work Ahead
Instead of lamenting on how bad the season has gone or on his own personal play, Bryan is thinking about the next game. He believes there is still a ton of untapped potential left on this roster.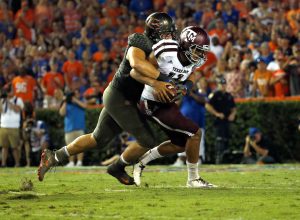 Especially in college football, the most important game is the next one. That stands true as the Gators will be traveling to South Carolina this weekend for a road match-up against the Gamecocks.
Bryan says that he is excited to face his former coach and joked that he might pass around some old playbooks.
The 6'4 lineman has drawn a lot of praise for his physique and play recently. Some have called him the next J.J. Watt along with being one of the more underrated defensive players in the nation.
Bryan refuses to talk about the NFL draft, instead he rather talk about winning football games. According to Bryan, winning is more important to him than individual play because "nobody likes a loser".
Being An Anchor During Tough Times
Having been through two different head coaches during his time in Gainesville, Bryan knows a thing or two about what does or doesn't work. He believes that the next coach that comes in will be able to turn things around quickly.
Taven Bryan was the springiest player on a field full of freakish athletes on Saturday pic.twitter.com/2XtcV5hrQa

— CFB Chalkboard (@CFBChalkboard) October 30, 2017
One thing is for sure, Bryan will not quit on this season. He continues to fight not for himself but for his teammates. The main goal for the rest of the season for Florida should be making a bowl game. Bryan realizes how important the extra practices can be for the younger players.
So don't bother talking to Taven Bryan about anything other than his teammates and the next game–He isn't listening.