The Auburn Tigers (8-2, 6-1) will take the field to take on the University of Louisiana at Monroe Warhawks (4-5, 4-3) on Saturday. The Tigers moved up in the polls to No. 6 after upsetting former top-ranked Georgia 40-17. Auburn will take a break in SEC play, however they cannot not overlook the Warhawks. ULM ranks 27th in the nation for total passing yards.
Building Off Momentum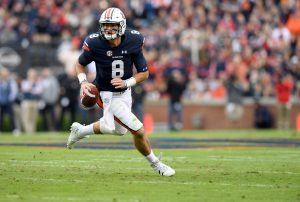 After Saturday's upset, Auburn put themselves back in the hunt for the SEC West division and potentially in the playoff hunt. The Tigers won in incredible fashion, ending a three year losing streak to one of their top rivals.
In that game, Auburn quarterback Jarrett Stidham showed continued improvement, throwing for 214 yards and three touchdowns. One of which, he scrambled into the end zone on a seven yard run. Auburn head coach Gus Malzahn said he believes he saw a turning point for Stidham after the loss to Clemson earlier in the season.
In addition to Stidham's outstanding play, Auburn running back Kerryon Johnson also brought his A-game. Johnson rushed for 167 yards and caught a 55 yard touchdown pass from Stidham. The two will look to have another impressive game in this non conference match up before playing Alabama in the Iron Bowl.
https://twitter.com/AuburnFootball/status/930626534876110849
Not Overlooking Their Opponent
Although Saturday's game does not hold the same importance, the Tigers are by no means looking over the Warhawks. When ULM enters Jordan-Hare stadium they will be bringing momentum of their own. Last week the team upset Appalachian State 52-45. In the fourth quarter of the game, the team outscored App State 17-7. One of those touchdowns came on a go-ahead play in the final minute of the game. Coach Malzahn said this Louisiana Monroe team is very skilled.
However, Malzahn said his team is focusing on themselves and improving.
The Warhawks offense is led sophomore Caleb Evans who has numbers fairly similar to Jerrett Stidham's. Evans has completed 153 passes on 235 attempts for a total of 2,066 yards and 12 touchdowns. Malzahn said that Evans is well coached and his athleticism is a threat to any defense. Similar to Jalen Hurts, the Auburn defense will look to stop a crafty quarterback before taking on Hurts and Alabama.
— ULM Warhawks (@ULMWarhawks) November 4, 2017
Kickoff is Saturday at 11 CT on ESPN2.