Jalen Hudson has been quite the surprise for the Florida Gators. The Virginia Tech transfer is averaging a team-leading 21.7 points and 4.8 rebounds per game, including a sensational 48.7% clip from beyond the arc. However, his success with the Gators doesn't shed light on his inconsistent collegiate career with the Hokies.
Career at Virginia Tech
Hudson was recruited to Virginia Tech by former head coach James Johnson. Johnson was fired in the spring of 2014, and Buzz Williams subsequently took over. Hudson didn't know much about Williams, but decided to honor his national letter-of-intent with the Hokies.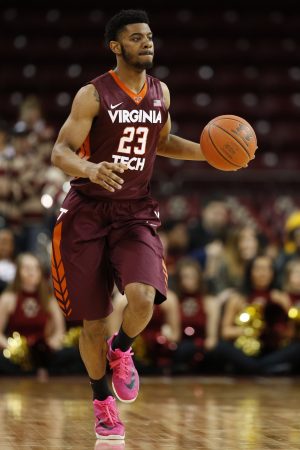 His freshman year was relatively underwhelming. He did have some bright moments, including a 32-point outburst in a win against Wake Forest, and a 23-point performance against No. 4 Duke. His scoring ability was evident, but his inability to play stingy defense didn't sit well with Williams, who is known in the coaching world for his defense. Hudson only averaged 16.7 minutes per game, which included eight single-digit minute performances. He also shot an abysmal 28.3% from beyond the arc and 64.4% from the free-throw line. Even though he showed massive potential, his inefficiency and lack of effort on defense were the main storylines of his freshman campaign.
Hudson thought his second year would bring greener pastures, but he was mistaken. A larger role was supposed to help him make a sizable leap, but the expanded role never came. His minutes only grew from 16.7 per game as a freshman to 20.0 per game as a sophomore, and his points grew from 6.9 per game to 8.4 per game. His efficiency progressed, but his lack of fit with Buzz Williams forced him to seek a transfer.
Difficult Transition Period
After a failed player-coach relationship at Virginia Tech, one of the biggest factors for Hudson was who his next head coach was going to be. Hudson was recruited to Florida by assistant coach Jordan Mincy. He also had a previous relationship with former Gator Devin Robinson. Both players grew up competing against one another on the AAU circuit in the Virginia area. When he reached out to Robinson about playing for the Gators, he had one major topic in mind: head coach Mike White.
"I didn't ask him (Robinson) how he got along with Mike White or how Mike White used him. It wasn't about any of that. I wanted to know what kind of guy Mike White was. Mike White, the person. I wanted to know about his family, what he was like day to day, what he was like away from basketball. It was important to me" (per Floridagators.com).
After forming a strong connection with White, Hudson officially committed to the Gators.
https://twitter.com/MikeWhiteUF/status/732294150658375680
Hudson was forced to sit out a year do the NCAA transfer rules. Last season, the Gators went 27-9 and lost in the Elite Eight of college basketball's most prestigious tournament. This took a major toll on Hudson because he wanted to be out there contributing and experiencing those moments with his teammates.
"In a way, it's like you're going through the season alone, in your own little world. People didn't even know I was part of the team," said Hudson (per Floridagators.com).
Life as a Gator
Hudson has thrived in the Gators' pace-and-space system. Having elite scorers like KeVaughn Allen and Egor Koulechov as well as a legitimate pass-first point-guard in Chris Chiozza opens up ample opportunities for Hudson to display his scoring prowess. The Richmond, Virginia product has not been afraid to let the ball fly, averaging 6.5 three-pointers attempted per game. His 48.7% mark is unsustainable, but it shows that he is an elite sniper from downtown.
Mike White knows that Hudson is still an average defender at best. White continuously subbed out Hudson for Keith Stone in overtime and double-overtime against Gonzaga in order to put the best defensive unit on the floor. Hudson and Stone would rotate on a offensive and defensive basis. This shows that White doesn't fully trust arguably his best scorer on the defensive end.
Hudson has posted double-digit scoring in all six games this season. He recorded a career high 35 points against 17th ranked Gonzaga, and followed it up with a 24-point, 10 rebound performance against No. 1 Duke. Hudson has proved that he has NBA talent and can compete with top notch competition. His potential is based on whether he can make a legitimate impact on the defensive side of the ball.
Florida's Jalen Hudson is ranked in the 99th percentile of college basketball in offensive efficiency, in the 99th percentile on "guarded" jump-shots, and the 97th percentile on overall jump-shots, according to Synergy Sports Tech. We're seeing why so far tonight.

— Jonathan Givony (@DraftExpress) November 27, 2017