After a disappointing football season, basketball was supposed to be the talk of the town in Gainesville for Florida Gator fans. However, the Gators have slightly underperformed expectations this season. They still sit at 16-8 overall and are 3rd in the SEC at 7-4, but have struggled mightily over the past two weeks. Prior to the LSU victory on Wednesday night, they had lost three straight SEC games. This terrible stretch of basketball is reminiscent of how they played in early December, losing four of five games, albeit to top-tier competition.
Why Have the Gators Been Struggling?
While their defense hasn't been a liability, it certainly has not done them any favors. Since the beginning of conference play, they have a defensive efficiency of 105.2, which ranks 9th in the SEC. Conference opponents have an effective field goal percentage of 50.3% against Florida, which is also 9th in the conference.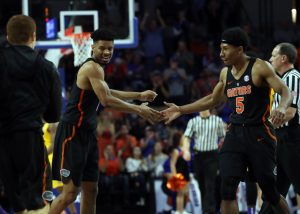 Their inability to play any other defensive style besides man-to-man has negatively impacted them because their opponents know how to prepare and know that they will only see one defensive scheme. Also, if an opponent catches fire on the offensive end, Florida has trouble disrupting their flow simply because they are not comfortable throwing out a different defensive look. Last year, the Gators were comfortable playing a 1-3-1 zone with Egbunu anchoring the paint. However, their lack of a true interior defender limits their ability to run this type of zone, or any for that matter.
When their offense is clicking, the Gators have one of the best scoring attacks in the nation. People viewed Florida as an offensive powerhouse to begin the season, but they have been severely inconsistent ever since. The Gators rank only 4th in offensive efficiency since the start of the SEC slate. They also have the 3rd worst 2-point percentage at 44.7% and the 8th ranked effective field goal percentage at 48.9%.
Playing With Pace
These offensive deficiencies can be attributed to a lack of movement and consistency in the half-court offense. The Gators thrive when they get out in transition and play with pace. This transition offense has been nonexistent as of late. In SEC play, the Gators average 66.7 offensive possessions per 40 minutes, which is the 3rd worst in the conference.
When the Gators don't play with pace, they are forced to settle into their half-court offense on a higher percentage of possessions. Their half-court offense doesn't involve a lot of movement, so the offense gets stagnant. Players tend to stand around and wait for Chris Chiozza or KeVaughn Allen to make a play. This lack of movement ultimately diminishes efficiency and effectiveness. This is why the Gator offense has struggled mightily over the past few weeks.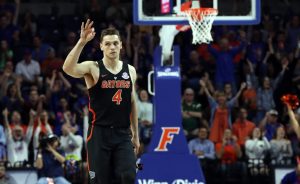 During Wednesday night's victory against LSU, the Gators did not get out in transition too often. They only had eight fast break points, but were not stagnant in the half-court offense. They focused on setting off-the-ball screens to create mismatches and free the likes of Hudson, Stone and Koulechov. Florida also attacked the basket with a purpose, scoring 34 points in the paint. The Gators shot 27-52 (51.9%) from the field, which is the team's best field goal percentage since November 23rd against Stanford.
If the Gators can continue to constantly move in the half-court offense like they did against LSU, they will be a team everyone fears during tournament play.