The Tennessee Volunteers defeated the Florida Gators 62-57 on Wednesday night. The Volunteers now sit two games behind the Auburn Tigers for first place in the SEC. They also hold a comfortable two-game lead over six different teams, who all sit at 8-7 in the conference.
Grant Williams and Admiral Schofield combined for 39 of Tennessee's 62 points. Jalen Hudson (13 points and 5 rebounds) and Chris Chiozza (11 points, 9 assists and 6 rebounds) led the charge for the Gators, but a 10-point deficit with 5 minutes left in regulation was too much for the Gators to overcome.
#Final from Knoxville. Back in Gainesville to take on 12th ranked Auburn Saturday night. #Timeout2Vote #CoachMikeWhite pic.twitter.com/xbILEyWrHb

— Gators Men's Basketball (@GatorsMBK) February 22, 2018
Final Five Thoughts
1.) It was a terrible first half of basketball for both teams. The Gators scored 18 points in the first half, which is their season low by a large margin. They also shot 7-26 (26.9%) overall including 1-10 from beyond the arc. The Volunteers did not shoot much better, connecting on 11-29 overall including 1-7 from three. The teams combined for 18 turnovers and struggled to find any flow on both ends of the floor.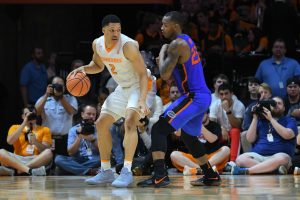 2.) The Gators lack of any interior presence is ruining their season. Florida really struggles to keep the ball out of the lane, which is simply because no one is afraid to attack Kevarrius Hayes, Gorjok Gak, or Dontay Bassett. Within the final six minutes of the loss against Tennessee, Grant Williams relentlessly attacked Kevarrius Hayes and scored at will. Williams finished with 23 points and 6 rebounds on 8-13 shooting. This lack of an interior defensive presence ultimately opens up plenty of uncontested scoring opportunities.
3.) Jalen Hudson has always been known as a superb offensive player and a below average defender. On Wednesday night against Tennessee, Hudson produced a team-leading 13 points on 4-11 shooting, including 2-6 from beyond the arc. However, this quality performance is very misleading. He struggled for a large majority of the night and scored 8 of his 13 points in the final 4:39 of action. The former Virginia Tech product was instrumental in the team's late run, but it ultimately did not impact the outcome of the game.
Hudson produced double-digit scoring in 19 of his first 21 games. Since then, he has failed to reach double-digits in three of his past seven contests. At the beginning of the season, Hudson showed an ability to score from all three levels and knock down many difficult contested looks. Recently, he has had a lot of trouble creating his own offense and his efficiency has fallen dramatically.
4.) The Gators continue to collapse in big moments. While Florida was able to make a late run and cut the deficit to three points with 25 seconds left, they were unable to secure a victory yet again. This time, it wasn't the Gators inability to score, but rather their inability to slow down Tennessee offensively. They have now lost three straight games, including blowing double-digit leads to Georgia and Vanderbilt.
5.) Tennessee is a legitimate threat to win the SEC tournament and can make a deep run in the NCAA tournament. This has been obvious throughout the duration of the season, but it was even more evident tonight after holding off numerous late runs by the Gators. Grant Williams and Admiral Schofield are a dynamic 1-2 punch. They have played extremely well against top-notch out of conference opponents (3-point win against Purdue, 9-point win against NC State, 5-point loss against North Carolina, 9-point loss against Villanova). Rick Barnes has done a great job with his program and will continue to put his team in the best position to win.
What's Next?
The Florida Gators host the SEC-leading Auburn Tigers on Saturday night at 8:30 p.m. The Gators will look to snap a three-game skid, while the Tigers look to clinch the SEC with a victory.