On any given night during the spring semester, overhead lights will illuminate Alfred A. McKethan Stadium as the Gators play a home baseball game. The muggy night air is electric with the thought of another Gator win as fans pack the stands.
Players crowd the dugout, fans buzz in their seats, and head athletic trainer Jon Michelini stands on the sideline, ready to support his team.
He remains unnoticed from the stands, but his presence on the field is integral to the team's success. Whether the pitcher pulls a muscle or an outfielder sprains an ankle running to catch the ball, Jon Michelini is there to minimize the damage.
"I really think our role is behind-the-scenes," he says. "I think we get into athletic training to help people and be successful, but not get all of the attention."
The 38-year-old Gator alumni started his path to athletic training playing sports as a child. Out of all the sports he pursued, baseball stuck with him. While the talent may not have been there, he said the passion always was.
"I was never a great athlete myself, but I always enjoyed it," he jokes. "For me [athletic training] was a great way to stay involved in athletics and also help people."
Originally from Oradell, New Jersey, Michelini journeyed south in 1997 to attend the University of Florida for his undergraduate career and the University of Southern Alabama for graduate school. As a student athletic trainer throughout college, he found his passion. After spending the first ten years of his career moving around the southeast, he returned to his alma mater in 2014 as the head baseball athletic trainer. 
The past year has been really special…

EXHIBIT A: #Gators have won 1⃣7⃣ regular season series in a row with 7 sweeps

(Not to mention a Regional, Super Regional and @NCAACWS title) pic.twitter.com/FabLvhrox5

— Gators Baseball (@GatorsBB) April 28, 2018
In his 15 baseball seasons as an athletic trainer, he's learned to focus on the impact he can make on the lives of each person he interacts with, not just medically.
"I'm not necessarily in the medical field," he says. "I say I'm in the relationship business. For me it's developing sometimes very long-lasting relationships with individuals that you can have an impact on."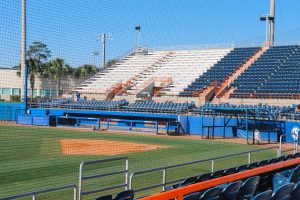 Rewards of the Job
Michelini holds few success stories as close to his heart as working with an outfielder at LSU, Raph Rhymes. After spraining his ulnar collateral ligament—an injury that is uncommon for outfielders—he was unable to throw from the outfield and required surgery to reconstruct the ligament. Despite a typical year-long recovery time, Rhymes played his first game back in the outfield about seven months after surgery.
"Raph ended up playing the entire 2012 season without any issues and was the SEC Player of the Year," Michelini says. "I was proud of how he handled the entire process. It was amazing for him to finish the season and be one of the best players in the country."
Michelini isn't a stranger to success stories. He often helps athletes overcome injuries and continue to excel in the sport. Though he's not in the business for recognition, Michelini says it's special when those who are not directly involved with the game appreciate his work.
"It's when I can have a parent come up to me—or someone maybe that I didn't even meet or talk to—who would say 'You did so much for my son,'" he says.
Preparing the Athletes
In addition to treating injuries once they occur, Michelini works to prevent injuries and keep the team in the best health possible for the entire season. "Our role is significant because we are the main liaison and voice for the athletes, coaches, physicians, and specialists," he says. "So our role is the first line of defense to prevent injury and protect athletes from enhanced harm once an injury occurs."
In the orange-and-blue-clad training facilities, Michelini works day in and day out juggling the needs of 29 student-athletes. While the coaches discuss strategy and the players perfect their craft, the head athletic trainer maps their treatment plans.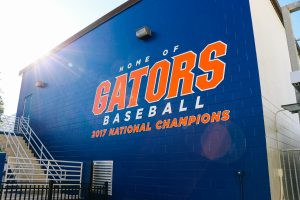 "We're like the secret workers behind the scenes," he says. 
The job is demanding, Michelini warns. From managing treatments to traveling to practices, the time commitment is a challenge. He tries to balance his work with building a family and making time for his hobbies, which requires patience and practiced time management, he says.
"I don't know if a lot of students understand that going into it—the time that it takes," he says.
For those interested in athletic training, he says shadowing is the best option. He urges them to consider their passion and decide if such a commitment is worth it. For him, it is. His love for the game and the people keep him in the field.
After five seasons with the Gator Baseball team, Michelini doesn't specify what's next. As his career path indicates, he goes wherever the job leads him. However, wherever he goes, athletic training will be there, he says. 
"For as long as there are sports, there will always be injuries," he says.