Andrew Luck did something on Tuesday that he hasn't done since October.
You guessed it, he threw the football.
The Indianapolis quarterback participated in minicamp drills on Tuesday, tossing 20 to 25 footballs.
Luck has been using college-sized footballs to lessen the wear and tear on his shoulder.
"The reason I'm using a little less smaller football is it puts less stress," Luck said in front of the media.
The former Heisman finalist last participated in an NFL game back in December 2016.
He had offseason surgery on his right shoulder in January 2017, and ever since then Luck has been struggling to find his way back onto the field.
If anything, yesterday's workout brought some hope to both the Colts' organization and its fans.
One thing is for certain, Andrew Luck was definitely beaming with confidence after the workout on Tuesday.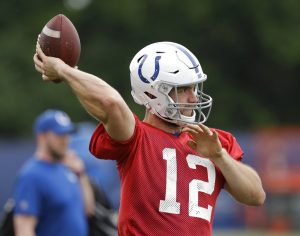 Will Luck be ready for Week 1?
https://twitter.com/nflnetwork/status/1006638637922975744
Although Luck will continue to heed his expectations and take things slow, the Colts' QB feels pretty confident that he will be the starting quarterback on Sept. 9 against the Cincinnati Bengals.
"No knock on wood," Luck said. "I'll be playing. I believe it in my bones."
Though this should somewhat energize the Colts' team, organization and its fans, those words may need to be taken with a grain of salt.
The Colts' franchise quarterback has been dealing with shoulder issues since he was first injured back in the beginning of the 2015 season.
He's missed 26 games combined in the last three seasons, and the Colts have continued to falter without their starting quarterback.
Over the past three seasons, the Indianapolis Colts have missed the playoffs in each season, finishing no better then 8-8 without a healthy Andrew Luck.
With weapons like wide receiver T.Y. Hilton and running back Marlon Mack however, the Colts' offense is set to saddle up once again with its star quarterback under center for the 2018 season.