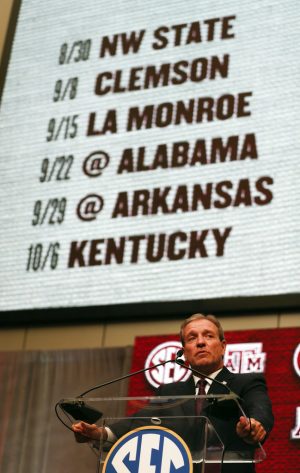 Jimbo Fisher is entering the 2018 football season as head coach of Texas A&M and it is going to be his first year back in the SEC since 2006.
Fisher left the Florida State Seminoles in 2017 to make the transition to Texas A&M. He said the administration, recruiting, history, opportunity and challenge drew him in to make the switch.
SEC Media Day
At SEC Media Day on Tuesday, Fisher spoke with high hopes about his new team.
Even though he has been out of the conference for 12 years, he is aware of his grueling conference schedule. Texas A&M will face off with Clemson and Alabama in the first four weeks of the season.
"It makes your kids wonder. I think when you have those games in the earlier parts of your season, I think it makes your summer that much better. I think it gets their attention, I think they understand the competition level, what you come to," said Fisher when asked about his early season competition.
Fisher's Transition
Fisher said his biggest challenge during his transition was the evaluation of the players, personnel, and the structure of the university when getting things done, but he has been flexible with his plan and figured out how to work with his new team and administration.
Hopeful for a National Championship
When asked how long it was going to be until he brought a national championship to Texas A&M he said as quickly as he can put things in place.
"Your time table is now, I mean you want to win one immediately and thats your place but is that realistic? I don't know," said Fisher, "could it be? Yes. It's all about the process of putting things in place. You want to build a program the right way up."
Trust the process. ⏳ #SECMD18 #GigEm pic.twitter.com/OaKuJxEiEW

— Texas A&M Football (@AggieFootball) July 16, 2018
Competing in the SEC West
Fisher coached for Auburn University and Louisianna State University early in his career, and he is familiar with the strength of the teams in the conference.
"Every week is for the National Championship. Because the teams you play have the capabilities of being there and whoever can survive that gauntlet of games and come out of there, you know is going to compete," said Fisher, "and whoever wins the SEC has a chance to win a national championship."
Texas A&M will face off with Northwestern State University on Aug. 30 in the first game of the season with their new head coach.