The drought is over and college football is finally back. With games starting Thursday, many fans are getting excited for their team's upcoming season. On Saturday, the Arkansas Razorbacks are back in action as they host the Eastern Illinois Panthers.
Here's an inside look at the Razorbacks as they prepare for the big game.
https://twitter.com/RazorbackFB/status/1035158042063630336
Chad Morris Debut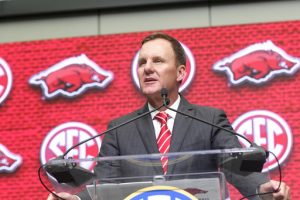 In December 2017, Chad Morris became Arkansas' new head coach. Since then, he has worked hard to prepare the team for this upcoming season. Before the evening practice on Wednesday, Morris' demeanor was beaming with excitement for Saturday's opener according to reports.
"I'm excited for these players. I'm excited for the staff. I'm excited for the state. It's not about me; it's about these guys who have put all the time and effort in (Morris)."
This is Morris' first game as the head coach and expressed the importance of this game to him.
"It's the most important season opener in my career because it's the one I can deal with right now. I'm excited about this opportunity and excited about this moment that we're able to start this journey together (Morris)."
The head coach also announced that the team will suit up in white for Saturday's big game. This is the first time since 1951 that the Razorbacks chose to wear white jerseys at home (247sports.com).
Starting QB Announced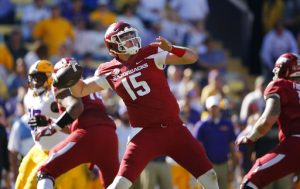 Redshirt sophomore Cole Kelley was officially named the starting quarterback for Saturday's game earlier this week. However, second-stringer, Ty Storey will play early and often on Saturday's game according to Morris.
In addition, freshman quarterbacks Connor Noland and John Stephen Jones will play at some point during this season. However, Morris did not specify how much and when they will play.
Injury Report
While Morris has not announced any new players to the injury report, there are a few players still out. Tight ends Jeremy Patton and Grayson Gunter and freshman offensive tackle Ryan Winkel were in the green no-contact jerseys during Wednesday evening's practice.
Ryan Pulley and Jared Cornelius are coming back into the game after season-ending injuries last year. Morris said they fully healthy and ready to lead. He also expressed his high expectations for them this season.
Game Details
Morris announced earlier this week the five captains for Saturday's game: Dre Greenlaw, Santos Ramirez, De'Jon Harris, Hjalte Froholdt and Jared Cornelius. He said this would be the only week that the Razorbacks will have five starters. Starting next week, Morris said he would keep it at four captains.
Game time on Saturday starts at 4 p.m in Fayetteville, Arkansas. You can catch the game on SEC Network.