It certainly wasn't pretty, but the Super Bowl champions were able to pull out yet another victory.
In a game that featured 26 penalties, the Philadelphia Eagles leaned on its defense to preserve an 18-12 win over the Atlanta Falcons on it's Banner Night.
The game was a rematch of the 2017 Divisional Round bout that featured the same late-game drama and ended 15-10 in Philly's favor.
"There was no panic tonight," Eagles Head Coach Doug Pederson said in his postgame press conference.
Quarterback Nick Foles on the win: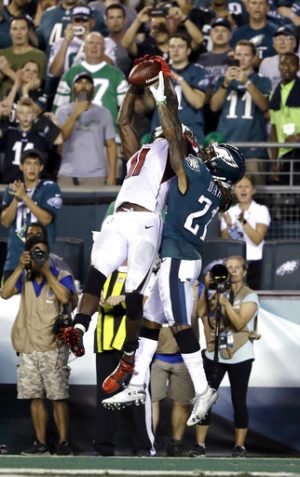 Dominance at the Line
"The deciding factor in this football game, to me, was our defensive line and our offensive line," Pederson said. "How they controlled that line of scrimmage that was a big part of this football game tonight."
Philadelphia yielded only 74 total yards and Atlanta's lone touchdown on the ground. On the other hand, the Eagles rushed for 113 yards and two scores.
Eagles running back Jay Ajayi led the way with 62 yards, both touchdowns and a 2-point conversion.
Pederson on Ajayi's performance:
However, the Eagles did allow over 250 passing yards to Matt Ryan with 169 of those yards coming from Julio Jones on 10 catches.
A New Twist on a Memorable Play
The famous "Philly Special" made yet another appearance on Thursday night. Although, it wasn't exactly the same as last time.
Running back Corey Clement took a handoff left, where he pitched a reverse to wide receiver Nelson Agholor who threw down the field to an open Nick Foles for a 15-yard gain.
"We were looking for a big play, somebody to make a play," Pederson said.
Philadelphia offensive tackle Lane Johnson, when asked, said the play ran Thursday night was the same one the New England Patriots ran against the Eagles in Super Bowl 52 that ended in a famous drop by Tom Brady.
Foles on the play call:
The Patriots' play from the Super Bowl vs. the Eagles' play tonight pic.twitter.com/dhJKUpBlDs

— Sean Wagner-McGough (@seanjwagner) September 7, 2018
Rebound Time for Atlanta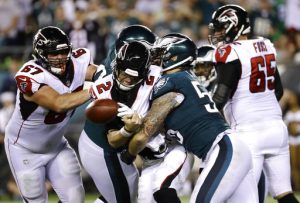 For the Atlanta Falcons, they'll look to regroup and focus on their Week 2 home divisional showdown with the Carolina Panthers.
"We've got work to do," Atlanta Head Coach Dan Quinn said in his postgame press conference. "We'll go back in and clean those up tomorrow. But, by no means, is our psyche adjusted from one game."
Quinn keyed on his team's ability to score in the red zone or lack thereof. He said Atlanta has put work into their red zone offense and the Falcons need to perform in that area if they want to be good.