The North Carolina Tar Heels will have a very tough task on Thursday night as they take on the 16th-ranked Miami Hurricanes. After losing their season opener to LSU, Miami has won three straight games in dominating fashion. The Tar Heels lost their first two games against California and East Carolina, but bounced back last week with a home victory over Pittsburgh.
What Miami Brings?
Tonight, UNC comes into @HardRockStadium to try to put an end to Miami's success at home.

Here are the matchups to watch: https://t.co/fUvhyIPfz8 pic.twitter.com/JD2SaIf2Dx

— Canes Football (@CanesFootball) September 27, 2018
While Miami hasn't had a viable opponent since week one, their offense has been dominant. They are averaging 43.5 points per game, which ranks 17th in the country. They are also averaging 449.3 yards per game. Senior quarterback Malik Rosier has been anything but spectacular this season. He is 38-73 (52.1%) for 611 yards, five touchdowns and two interceptions. He has also added 88 yards and five touchdowns on the ground.
The Hurricanes rushing game has been a major contributor to their offense. Travis Homer, DeeJay Dallas and Lorenzo Lingard have combined for 636 yards and four touchdowns. Jeff Thomas has paced their receiving core, hauling in 12 receptions for 315 yards and two touchdowns.
Miami's defense has allowed 18.5 points per game, which ranks 29th in the country.
What North Carolina Brings?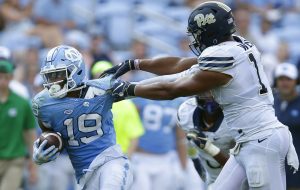 The Tar Heels have struggled mightily on both sides of the ball. Junior quarterback Nathan Elliot has had a lackluster season, completing 59 of 104 attempts for 669 yards, three touchdowns and four interceptions. However, sophomore quarterback Chazz Surratt is expected to regain his starting role after serving a four game suspension to start the season.
Antonio Williams has led the backfield with 257 yards and three touchdowns. The Tar Heels have received major contributions through the air from Anthony Ratliff-Williams and Dazz Newsome, who have combined for 22 catches, 362 yards and a touchdown. Overall, the Tar Heels have had a very difficult time scoring, averaging 24.7 points per game.
North Carolina has eight players returning from suspension this week, so things could be looking up for the Tar Heels.
When and Where?
This game will be played on Thursday night at 8:00 p.m. in Miami.