We're into week six of college football, and we've got some big matchups outside of the SEC this weekend. Ranked opponents meet in two matchups as no. 7 Oklahoma and No. 19 Texas face off at the Cotton Bowl and No. 6 Notre Dame travels to No. 24 Virginia Tech. Additionally, we have an ACC Sunshine State rivalry match between No. 17 Miami and Florida State.
Texas vs. Oklahoma
One of the biggest rivalries in college football renews this Saturday. The Oklahoma Sooners come into this game undefeated, while the Texas Longhorns have not tasted defeat since their season opener.
The Sooners have won six of the past eight matchups between the two teams. However, the Longhorns look to be reinvigorated under head coach Tom Herman's second year at the helm.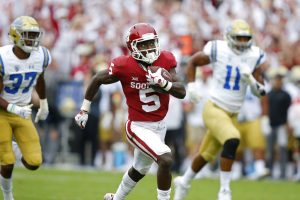 This year, the Sooners lost Baker Mayfield, their Heisman-winning quarterback. However, junior Kyler Murray has filled in his shoes exceptionally.
In fact, Murray is on track to finish with an even higher passing rating than Mayfield, particularly after last weeks game against Baylor where he finished with a 348.0 passing efficiency. Oklahoma's success in this matchup will heavily rely on Murray and the offense's ability to continue being explosive and score against a tough defense like Texas'.
On the other hand, if the Longhorns want to exploit a weakness of the Sooners, they should look to the rushing game.
While Texas hasn't been particularly strong in rushing so far this season, this is where Oklahoma struggles more. Two weeks ago, Army took the Sooners to overtime with a strong ground game. Additionally, if the Longhorns keep their tough defense up – the defense that has totaled six picks so far – then they have a chance at upsetting the Sooners.
Notre Dame vs. Virginia Tech
Notre Dame enters this matchup undefeated and ranked just outside of the college football playoff spots at number six. Virginia Tech has a 3-1 record after having been upset by Old Dominion two weeks ago. They face off on Saturday in the second of two highlighted ranked matchups this weekend.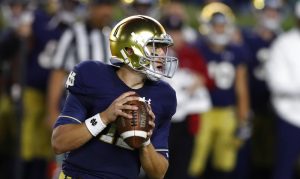 The Fighting Irish are a 7-point favorite to win this match in Vegas, in part because their offense has been outstanding as of late.
The Irish are riding off of back-to-back high scoring performances against no.14 Stanford and Wake Forest.
It's no mystery why in the last two games, Notre Dame has looked far more efficient offensively, and that's due to quarterback Ian Book getting the start. Additionally, the Irish benefited greatly on the defense with Jerry Tillery leading the way with four sacks against Stanford.
But, this doesn't mean you should count out Virginia Tech just yet.
While they did face a disappointing upset to Old Dominion two weeks ago, the Hokies bounced back last weekend defeating Duke 31-14. Quarterback Ryan Willis had an outstanding performance in his first start for Virginia Tech against Duke, where he totaled 332 throwing yards and three touchdowns with zero interceptions. If there's hope for the Hokies to pull the upset, it relies on Willis building off his performance from last week.
Florida State vs. Miami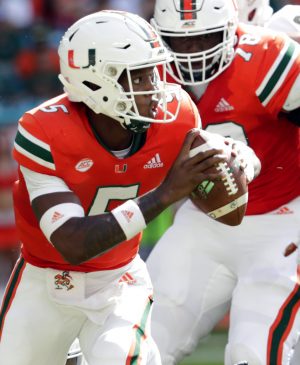 Elsewhere in the Sunshine State, No. 17 Miami prepares to host unranked FSU. The Canes have not beaten the Noles at home in 14 years, a streak they're hoping ends this weekend. In fact, before last year's win, the Noles had a seven-year win streak against the Canes.
But, much like last year, it looks like the tide has turned on FSU's dominion of this series. Miami comes into this matchup 4-1, with their only loss coming in their season opener to LSU who are now ranked fifth in the nation. Since then, the Canes have tightened up their defense, and built upon their offense.
FSU enters this match with a 3-2 record, including losses to no. 24 Virginia Tech and Syracuse. This has been a rather disappointing start to the season for the Noles and they'll look to the matchup against the Canes to bring some more positives to this season.
When and Where
All three matchups will take place on Saturday, October 6th.
You can watch Texas vs. Oklahoma on FOX at 12 pm, FSU vs. Miami on ABC at 3:30 pm and Notre Dame vs. Virginia Tech on ABC 8 pm.