The SEC kicks off its football season in just over two weeks and the Kentucky Wildcats are looking to make some noise this year.
How they fared last season
Mark Stoops' team finished the 2019 season at 8-5 with a win over Virginia Tech in the Belk Bowl to close the year. The Wildcats finished the season strong winning their final four games. Stoops will try to carry that momentum into this season.
Offensively, the Wildcats were a middle-of-the-pack team in the SEC. They could end up even worse on this side of the ball this season. Stoops will have to find a way to replace Lynn Bowden Jr. and his 1800 scrimmage yards to go along with 14 touchdowns.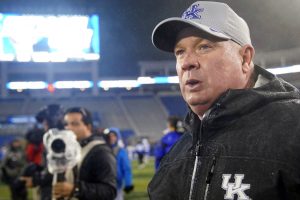 In addition, Kentucky will have to fill the void left on the offensive line left by Logan Stenberg. A fourth-round pick in the 2020 NFL Draft by the Detroit Lions, Stenberg started 39 consecutive games for the Wildcats.
Quarterback Questions
Terry Wilson is back at quarterback for the Wildcats after suffering a gruesome knee injury that ended his 2019 season. In fact, ESPN's Mark Schlabach picked Wilson to be the SEC Comeback Player of the Year.
Despite being the favorite to have the job, don't be surprised if it's not Wilson starting week 1. There's the 6-4, 242-pound sophomore in Auburn transfer Joey Gatewood. Many believe he has the size and skills to be an effective SEC quarterback but his eligibility still remains in question. Also, a chance to get playing time is senior Sawyer Smith.
Take a listen to what Josh Moore, who covers Kentucky football for the Lexington Herald-Leader, has to say about the team's quarterback situation.
Strongest Position Group
Whether it was Benny Snell two years ago, Lynn Bowden last year or a combination of guys this year, Kentucky loves to run the ball. It's no secret and they've been one of the best rushing offenses in the country over the past few years. As great as the backfield has been, the credit must go to guys blocking.
Despite losing Stenberg, this unit has a flurry have guys that helped the Wildcats' have the fourth-best rushing offense in the nation a year ago. Here's what Moore had to say about the group.
#SEC Highest-graded returning O-linemen

Darian Kinnard, UK – 89.2
Jamaree Salyer, UGA – 81.3
Trey Smith, UT – 78.6
Landon Young, UK – 78.3
Drake Jackson, UK – 78.0
Ben Cleveland, UGA – 77.4
Luke Fortner, UK – 77.0
Carson Green, A&M – 76.3
Trey Hill, UGA – 73.6@PFF_College

— Brent Rollins (@PFF_Brent) February 19, 2020
Along with the offensive line, Kentucky is looking to have strong special teams play. Punter Max Duffy was named a Preseason All-American.
https://twitter.com/UKFootball/status/1303762364957941760
For the past few seasons, Kentucky has played a better brand of football. Although, they've yet to get over that hump and into national contention year after year. With a shorter schedule that eliminated non-conference games, and added a trip to Alabama, Kentucky could be in for a tough season.
Although, it is 2020 and stranger things have happened. The Wildcats start their season on Sept. 26 on the road against Auburn.