24 days after their season debut, the Oak Hall Eagles finally got to play on their home field Friday afternoon. In their first home game of the year, their offense caught fire early and stayed hot the entire game. Oak Hall walked away with a 16-1 win against the Bronson Eagles to improve to 3-1 on the year.
Junior Jack Kuzmicki had an impressive all-around outing. He secured two hits on the offensive end while grabbing the win on the mound. Sophomore Harrison Beach led the team with four RBI as he secured his first multi-hit game of the season.
Additionally, sophomore Jackson Beach finished with four runs on the day despite technically not registering an at-bat. He was walked during his first three at-bats and was hit by a pitch in his fourth at-bat. Emory Ezzell secured the victory with a walk-off single in the fourth inning to secure a mercy rule. Ezzell finished with two hits on the day.
Finding Their Footing to Kick Things Off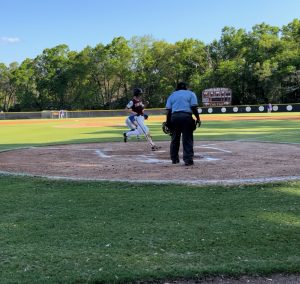 The top of the first inning started off a bit rocky for Oak Hall. Despite the team only allowing one hit in the inning, a pickoff attempt gone wrong allowed Bronson's Caleb Engler to score. However, Oak Hall quickly bounced back in the bottom of the inning. An RBI triple from Kuzmicki drove Jackson Beach in for the team's first run of the evening. In the next at-bat, sophomore Ethan Szlachetka brought Kuzmicki home with an RBI single. Szlachetka went on to steal three consecutive bases, including home plate, to score as well.
Oak Hall really got going in the second inning. A double from eighth-grader Aaron Akins gave the team a man on second and third to start the bottom of the second. Two at-bats later, Harrison Beach hit a line drive that brought in two more runs for the Eagles. After striking out earlier in the game, he credited a shift in his hitting strategy to the improved results in his later at-bats.
"I came out here and struck out in my first at-bat, so I started off a little slow," Harrison Beach said. "I was like, 'I [have to] get on top of it. So I changed my approach, softened up my swing a little bit and started hitting really well."
Oak Hall had already gotten off to a good start in the inning. However, what followed Harrison Beach's two-RBI single was sheer chaos in the best way possible.
Firing On All Cylinders
Kuzmicki followed Harrison Beach at the plate, the latter stealing second base early in the at-bat. A couple of pitches later, Bronson's catcher missed a pitch that brought Jackson Beach (who had been walked earlier) home. Harrison Beach advanced to third base, only to make his way home two pitches later due to a balk.
Soon after, with the count at 3-1, Kuzmicki blasted a ball deep into the outfield that Bronson struggled to follow. As Kuzmicki continued rounding the bases, the excitement in the crowd began to grow as Bronson attempted to bring the ball back into play. Kuzmicki sprinted past third base and prepared to slide into home plate. The ball had not even entered the infield as Kuzmicki crossed the bag, securing him an inside-the-park home run.
INSIDE-THE-PARK HOME RUN! Jack Kuzmicki with another big blast to the outfield, and this time he's able to make it all the way home in one try. Eagles lead 8-1 at the end of the second inning. pic.twitter.com/ivekKUbiD6

— Jack Meyer (@jacklmeyer10) March 18, 2022
After Kuzmicki let his bat rip, he wasn't immediately thinking of going all the way. He simply focused on the signals from Eagles Head Coach Kevin Maris to guide his decisions.
"Usually, I'm not doing any thinking myself. I let Coach Maris do the thinking for me," Kuzmicki said. "He's a lot smarter than me, so I just look and him and do whatever he tells me to do, and it worked out."
After their tremendous second inning, Oak Hall continued to extend their lead as the game went on. While the offense played a sizable role in the team's victory, their defense also allowed them to maintain control over the game. In 3.2 innings, Kuzmicki only gave up two hits and one run while collecting seven strikeouts. Ezzell briefly stepped on the mound to close out the fourth inning, where he immediately picked up a strikeout himself.
In addition to his strong offensive performance, Kuzmicki has turned in a strong outing from the mound as well. Three innings pitched, one hit, one run and five strikeouts. Eagles are holding on to an 8-1 lead midway through the third inning. pic.twitter.com/bRyZP4hrPS

— Jack Meyer (@jacklmeyer10) March 18, 2022
Finishing It Off With An Unconventional Walk-Off
Oak Hall held a 9-1 lead entering the bottom of the fourth inning. Despite a new pitcher entering the game for Bronson, Oak Hall continued its dominance on offense. Nine players made it on base in the fourth inning alone, five coming from walks. This had been a recurring theme throughout the game, as Oak Hall picked up a total of 12 walks for the day. Coach Maris credited the team's plate discipline as a key factor in the win.
"We take pride in swinging at strikes, we don't waste our at-bats," Maris said. "To be a good hitter, you've got to have a good approach to it."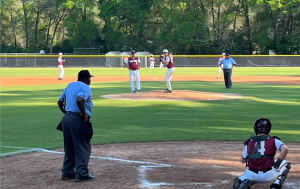 Eventually, Ezzell stepped back up to the plate as Oak Hall had built their lead to 14-1. With the bases loaded, Ezzell was one well-hit ball away from clinching a mercy rule and securing the win for Oak Hall. He hit a line drive into right field, which brought home the men on second and third. Ball game.
Although it was not in traditional fashion, Ezzell was still elated to hit a walk-off and cement the victory for his team.
"I don't think I've ever walked off a game before, it's a good experience for me," Ezzell said. "I'm proud of our guys going into spring break, and I have high hopes for the season."
Back in Action in Two Weeks
Oak Hall will now get some time off with no games on their schedule next week. Their next matchup will take place on March 29 at 4:15 p.m. They will host the Redeemer Christian Lions as their schedule will begin to heat up. While there are still plenty of games to go this season, Friday's outing showed just how much promise this Eagles squad has.