As the saying goes, "When it rains, it pours." It was certainly raining for Oak Hall's offense this past Friday. In their matchup with the Countryside Christian Minutemen, the Eagles racked up 16 hits in a 26-1 victory. The Eagles controlled this game from the first at-bat to the final pitch. In three of their four innings at the plate, the team scored at least six runs.
Neil Ruth led the charge for the Eagles on offense. He walked away with four hits (including a double), four RBIs and two stolen bases. Troy Freeman, Brody Beaupre and Emory Ezzell all finished with three hits on the day. Freeman also drove in four runs, while Ezzell and Beaupre each drove in three.
Ezzell also went on to secure the win on the mound. He pitched for four innings and gave up one hit, one run and one walk. Ezzell also struck out six batters, including three in the final inning alone.
Taking Control From The Get-Go
After working their way out of a deficit in their last two games, the Eagles kicked this one off with some early offensive fireworks. Jackson Beach and Harrison Beach quickly made it on base with a pair of walks to lead off the game. Jack Kuzmicki followed this up with a line drive to center field that brought Jackson Beach home.
After Kuzmicki and Harrison Beach stole second and third base, respectively, Ethan Szlachetka drilled a line drive of his own into right field that brought both runners home. With their first four batters all finding their way on base, the Eagles had set themselves up for a big day at the plate.
The Eagles are already out to a sizable lead in this one. A well-hit line drive from Ethan Szlachetka brings home two runs for the Eagles, who currently lead 4-0 with two outs in the first inning. pic.twitter.com/3u5dnmgqjZ

— Jack Meyer (@jackmeyerespn) April 8, 2022
Szlachetka stole second and third base consecutively before Ruth brought him home with an RBI single into right field. Ruth went on to steal second in the ensuing at-bat, but the Eagles were soon down to two outs in the inning. Hoping to keep the team's momentum alive, Beaupre stepped to the plate hoping to make something happen however he could. Spoiler alert: He did.
"[My goal is to] hit the ball where they're not standing and get on base," Beaupre said. "After that, whatever happens, happens."
Midway through the first inning, the Eagles lead 7-0. Oak Hall's bats are off to a hot start in this one, with plenty of hits to show for it (including this RBI single for Brody Beaupre). pic.twitter.com/TWLt6uWqYR

— Jack Meyer (@jackmeyerespn) April 8, 2022
Beaupre then knocked a ball past Countryside's second baseman to bring Ruth home. By the time the Minutemen had secured a third out, the Eagles had already hopped out to a 7-0 lead. Little did either side know that would only be the beginning of Oak Hall's offensive onslaught.
Staying Hot At The Plate All Day Long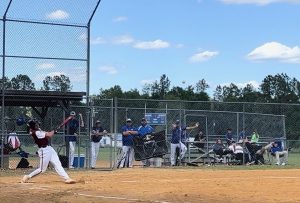 The second inning did not feature too much action, although the Eagles did score one run. After Freeman got on base with a single, Ezzell knocked a double out into left field to bring him home. Oak Hall also made quick work of Countryside's offense in the first two innings. They did not give up a single hit, walk or run during this stretch.
The game really started getting out of hand by the third inning. Aaron Akins led off the inning with a single. In the subsequent two at-bats, Jackson Beach was walked and Harrison Beach logged a single of his own. With the bases loaded, Kuzmicki hit a pop fly out to center field; while Countryside's fielder did secure the grab, Akins swiftly made his way home for the score.
After Szlachetka was walked in the following at-bat, the bases were once again loaded. In back-to-back plate appearances, Freeman and Ruth had nearly identical plays: each hit a line drive into center field, drove in two runs and wound up with a double. With the team working as a cohesive unit all game, Freeman noted how their mindset played a key role in Friday's win.
The runs keep coming! A monster 2-RBI double from Troy Freeman brings home Jackson Beach and Harrison Beach. In the following play, Neil Ruth hit a 2-RBI double of his own to extend the lead to 13-0. The Eagles have only picked up one out so far in the bottom of the third inning. pic.twitter.com/0TTqgzVaNi

— Jack Meyer (@jackmeyerespn) April 8, 2022
"The second we got out here… we were confident in this game, I know that," Freeman said. "We were confident in ourselves."
Additionally, Ruth discussed his mindset at the plate in his post-game interview. He focuses on generating offense however he can, both with his batting and base running.
"When I get in the game, I try to not look at the fences. I try to just make contact, swing through the ball and put it in play," Ruth said. "I know that with my speed too, if I just put it on the ground somewhere, 90% of the time, I'll be safe on first."
Kicking It Into Overdrive In The Fourth Inning
By the end of the third inning, Oak Hall had grown their lead to 14-1. The Eagles needed to score at least two runs in the fourth inning to potentially trigger a mercy rule. Kuzmicki and Szlachetka were walked to start the inning; the former was driven home on a ground ball into left field by Freeman. A pair of singles from Ruth and Ezzell helped Szlachetka make his way home as well. With the team having met the threshold for the mercy rule, all that was left to do was to see just how far they could run up the score.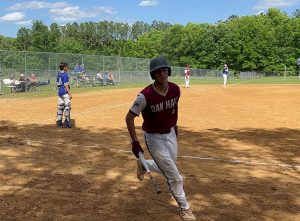 The Eagles were in a nearly perfect scenario: the bases were once again, and there were no outs on the board. What followed was an odd (yet somewhat beautiful) streak. In Oak Hall's next four at-bats, each batter made it to first base, and one run scored on each play. Beaupre and Harrison Beach hit a single, while Andrew McManis and Bear Wooley were walked.
Additionally, by the time Kuzmicki made it back to the plate for his second at-bat of the inning, the Minutemen had still not picked up any outs. Each of Oak Hall's batters in the inning had made it on base. The Eagles did not make any mind-boggling plays or hard-to-believe highlights. They just played good, consistent baseball. And it paid off big, just like it has paid off for them all year long.
By the team the dust had settled, the Eagles picked up a total of 12 runs in the fourth inning alone. Ezzell quickly put the Minutemen away in the bottom of the fourth inning, clinching another massive win for Oak Hall. Eagles Head Coach Kevin Maris mentioned after the game how he was pleased with the team sticking to their game plan throughout the afternoon. He also emphasized how games like these can serve as valuable teaching moments for the roster as a whole.
"We've been playing pretty good ball, and the guys [have been] putting in their time," Maris said. "When you play games that get a little out of hand like that, we try to tell the guys to stay focused and take advantage of what you can work on during these times."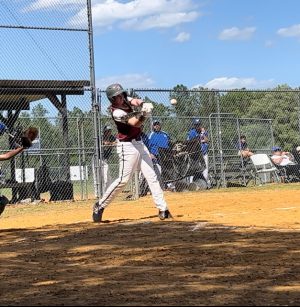 Taking The Weekend Off Before Another Busy Week
Friday's game marked the conclusion of a three-game week for Oak Hall. The team will be back in action next Monday, as they will play host to the Trenton Tigers. After that, the Eagles will play their first set of back-to-back games this season. Next Wednesday, they will host the Branford Buccaneers. The following day, they will visit the Bronson Eagles.
Maris mentioned that he plans to give the team this Saturday off to allow them to "recharge their batteries". While the team prepares for another hectic week, Freeman remains confident that the Eagles will keep their momentum going.
"We're just planning on doing the same thing that we did this week," Freeman said. "We're going to have pitchers every game for the right game… And we're going to have our players all set and ready to go."