To celebrate International Education Week, WRUF is publishing profiles of UF student-athletes all week.
Deep breaths go in and out as Elettra Neroni makes her way up the stairs to the diving platform. She looks over down at the pool preparing herself to take the leap. A leap she has done plenty of times before, but not the biggest one she has ever taken. 
Her biggest leap was moving away from her family and friends in Rome, Italy, to continue her diving career at the University of Florida in the spring of 2022. 
https://www.twitter.com/GatorsSwimDv/status/1440403252827226114
"I was not really sure how good I am to come here," she said. "America is a really great country for diving, so I was like 'Am I going to be enough?' I came in January and after two months I was already qualified for SECs and I made the finals. It is great. I am so proud." 
Her parents' influence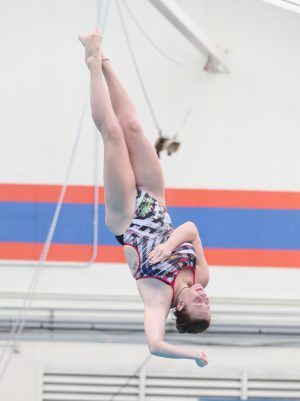 Neroni started in gymnastics when she was 4. Soon after, her swimmer father, Massimiliano Neroni, and gymnast mother, Silvia Scatola, put their passion together to get her into diving lessons.
Neroni continued gymnastics alongside diving for a few years until she realized her interests aligned more with diving. She quit gymnastics, but her gymnast mother did not quit her. 
"My mom actually is my coach in dry land [at home], so I see her every day and maybe get a little secret on how to do things," Neroni said. "[My parents] assist me with everything. It is great." 
Competing internationally
Before moving to the US, Neroni and her national team diving partner Maia Bignelli won third place at the FINA World Junior Diving Championships synchronized A/B 10m platform event with a score of 224.1. Six months prior, in June 2021, the two had won silver in the same event at the European Junior Championship. More recently, the two upgraded to senior competitions and represented Italy at the European Championship this summer.
"[When competing for Italy] I am very nervous," Neroni said. "I try to always do my best and every time I am put on a roster for an international competition, I am always so excited. It makes me feel like I am doing great." 
Practice and training differences
Neroni went right to work when she landed in Gainesville and it paid off quickly.
She made it to the SEC finals within weeks of living in the US. Despite getting stellar results upon her arrival, she still noticed she had to adapt to some major differences between her new American life and her Italian routine.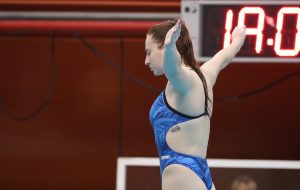 Neroni trained only in the afternoon throughout high school. After graduation, she trained twice a day in Rome—once in the morning and another time in the afternoon. She believes that schedule was exhausting, but collegiate training "is a whole another kind of exhaust." 
Unlike in high school, her schedule is now filled with different pieces of training like weightlifting, which she had never done with her team in Italy. 
"I really like it," Neroni said. "I feel like I am in good body shape and I can take my dives really high again. I am so happy with it."

Making a name for herself in the first semester
In her first season with the Gators, Neroni exceeded expectations and more.
She made it to the SEC finals and barely missed the NCAA finals. The cutoff to go to the finals was top 18 and Neroni came in at 19 at the NCAA Zones Meet. She scored 245.8 which was 2.75 points behind the 18th-place score of 248.55.
When the season came to a close she made the SEC All-Freshmen team and the CSCAA named her a 2022 Individual Scholar All-American.
"I really want to make NCAAs," Neroni said. "Last year, I did make it this much, I really hope to do NCAAs and maybe do finals or become All-American. I do not know."

The college experience
Since coming to UF for school, Neroni has felt nothing but love and a sense of community from her teammates and friends.
"They are so welcoming. As soon as I came here, it felt like a family. We are a little family, so it is great," Neroni said.
But even if diving takes up a lot of her time, Neroni has also enjoyed going to other sporting events across campus and discovering American culture.
She brought the two together when she attended her first American football game back in the spring for the Orange and Blue game. The size of the crowd shocked her.
"I was already like 'oh my gosh, oh my gosh,' Neroni said. "It's so many people. My friends were like 'oh that's not even half of the people that are usually here."
Neroni told herself then that she would attend as many football games in the fall as she could. She went to her first regular season game at the Gators' home opener against Utah on September 3. The sold-out game brought 90,799 fans to Ben Hill Griffin Stadium, breaking the school's record for the largest opening game attendance.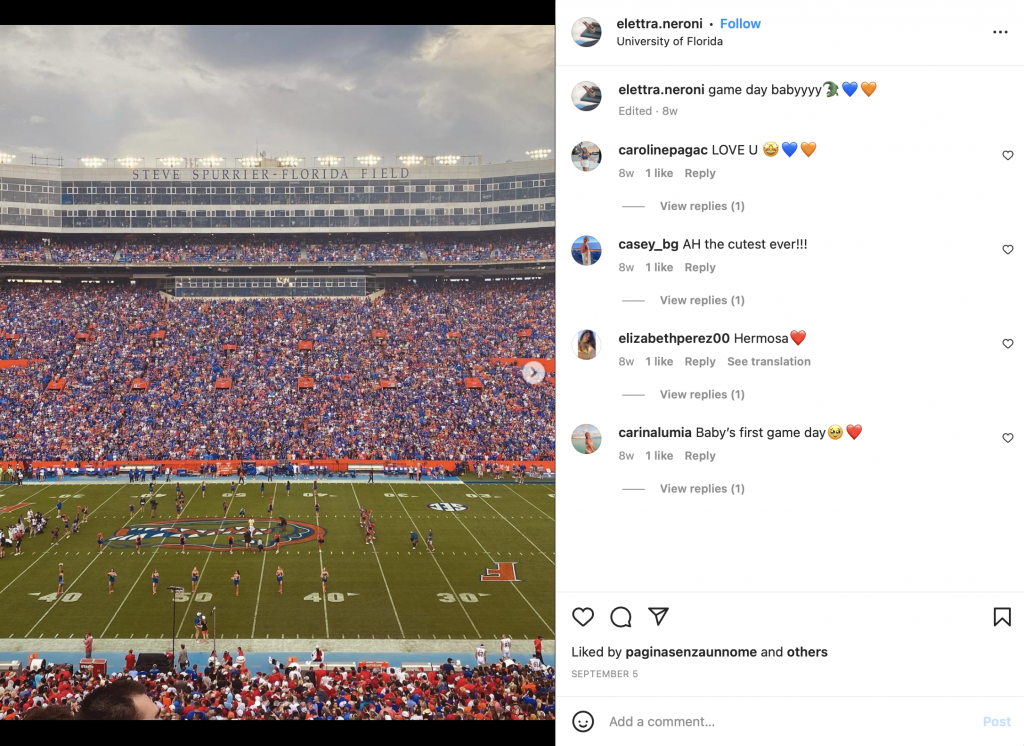 Neroni described it as being squished together with her arms close to her body. 
 "We don't have football in Italy. It is beautiful," Neroni said. "I am going every time."
Having represented Italy on the junior international circuit for a while, Neroni has worn blue for years. In the past few months, she has happily added orange and is proud to dive for the Gators next at the US Open in Greensboro, North Carolina, in early December.