As Newberry High School's spring softball season approaches, Coach Edward Johnson speaks on behalf of the upcoming season. Focusing on what's to come, comparing last season to this year's improvement and highlighting players.
Coach Edward Johnson
Originally from Gainesville, Coach Johnson went to Newberry High School. After playing football in college he came back home to coach the basketball team he once played. A full circle moment. Johnson has been coaching at Newberry High for the past 9 years. Last year, he took over in the middle of softball season as head coach.
"I enjoy coaching softball because it's been very different, in an exciting way….I think we will shock some people this year and be very competitive." – Edward Johnson.
Upcoming Season
The Newberry Panthers had a rough start to their spring season last year. When Coach Johnson took over they were 0-8. The team began to progress as the year went on finishing at a record of 5-13.
Johnson is very excited about the upcoming season. His main goal is for his team to come out starting stronger than before. To do so, the team must improve defensively, specifically pitching which he mentions was one of their main struggle points. They gave up a lot of walks during last season. "You can't defend a walk." Overall, coach expresses how he sees his girls improving as they grow the team with great players.
Panther's Schedule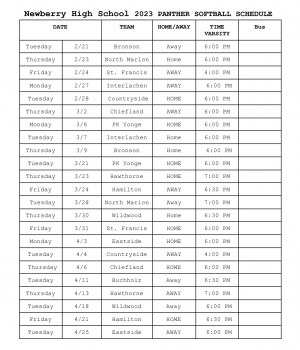 After discussing this year's schedule, Johnson points out that the game he looks forward to most is Chiefland High School. During the regular season, Chiefland came out on top, taking home a win. Both teams crossed paths again at the district tournament where Newberry fell short by one run. Though Coach knows this year will be a challenging game, he is eager for his girls to have a potential comeback. "Who knows what we can do this year if we keep it going," said Johnson.
Pre-Season Strengths
During their current pre-season, incoming players have shown a lot of strength and passion for the game of softball. Johnson has been very impressed with their skills on the field. When asked about specific players he pointed out sophomore Malana Kennard and junior, Hollie Pabst. Both students are strong leading batters for the Panthers team. Coach Johnson noted Hollie's average at-bat was a high .490 last year. He is excited to have them both back and looks forward to their return next season as they continue to grow as fierce players.
The team as a whole has individuals with young talent that can play the game of softball. Some of the girls on the team are ahead of the game playing travel ball outside of the High School season. Johnson mentions this makes coaching easier as they have that basic foundation built. "It's exciting seeing such talent from incoming freshmen who will gradually build up over the next three years."
Senior Spotlight
In the next couple of weeks, two players from Newberry High School will be signing with colleges. Senior Paige Bankston who plays shortstop is signing with St. Pete College. Last year she tore her ACL which prevented her from playing during the spring season. Johnson looks forward to having her back on the lineup as she is a very strong player for the team. Senior Danielle Oliveira who can play at almost any position you place her on the field is signing with Georgia Military College. Johnson felt, "It's rare around here for softball so we are excited about that."
All in all, Johnson expects this season to have an entirely different outcome than last year. The players are all on board in improving and working together to build their team. Johnson has held practice every day of the week as they prepare for a pre-season tournament on the 18th, in Hamilton County. Newberry softball Panthers are excited to see what their future holds.