The Back Nine comes at you after a glorious weekend that included friends, family and the biggest win of Billy Napier's career. So far.
 10. Man, you should have heard the chatter in the press box Saturday. It wasn't what Florida would do IF Florida lost to Tennessee, it was what UF would do WHEN Florida lost. But Game 16 of the Napier Era turned out to be one of those special nights in The Swamp and the noise in the system can be turned down to, like, a three. Of course, the bigger the win, the bigger the games become.
11. I wrote this for GatorsWire, but I wanted to share it here as well. Austin Armstrong's first three games as Florida's defensive coordinator have not been perfect and it is only three games. But the numbers are pretty impressive. His Gator defenders have allowed 256.3 yards a game, which is 154.7 fewer yards per game than last year, and, 12.0 first downs, which is 10.8 fewer. Last year was bad, but it has been three years of bad defense. Maybe this defense is the real deal.
12. And in the end, this was about two things – defense and The Swamp. It has been a long time since Florida has a defense to be proud of and it is only three games. But The Swamp has never gone away and it was the one reason I thought Florida could win this game. That game started a new level of chatter on The Artist Formerly Known As Twitter about not touching one seat in the stadium. For once, I could see the point of the anti-contraction fans.
13. We thought there would be little of interest on Saturday. We were not counting on Georgia struggling and FSU almost blowing a game to a team that had 345 penalties and still had a chance to win at the end. That's the thing about college football. We think this weekend is going to be massive and it might be boring. We thought last weekend was going to be boring and it was really interesting.
14. And, yes, I did stay up for the entire Colorado-Colorado State game. Every time I think this fairy tale is going to end, it gets more intriguing. And it certainly will be the next two weeks with Oregon and USC on Colorado's schedule. I still think Deion's team is going to finish in the 7-5 range, because of a lack of depth, but he has some stars on that team, including his two sons. And remember what we thought about Colorado going into the season. Sanders may be the national coach of the year with six or seven wins.
15. OK, let's get to The Picks and another good week leaves Dr. Football with a 13-4 record. Vegas, here I come. But as Han Solo said to Luke, "Don't get cocky, kid." Here we go:
I will stay away from the Gator game against Charlotte (which lost 41-25 to Georgia State on Saturday) and instead lead off with Ohio State giving up 3 points at Notre Dame. I am going with the home team and the better quarterback. Irish.
FSU is a 2.5-point favorite over Clemson and don't take much from the Semis looking ahead last week. I think they roll and Clemson starts thinking it might be time.
Colorado, and this is unreal, is getting 20.5 points at Oregon. Too many points for what some people think is America's Team. I'll take the Buffs.
Ole Miss is getting 7 points at Alabama and I'm not sure the Tide can score enough to make this game competitive. So, I will take the Sip.
16. I have to give Gator Nation credit for showing up for the volleyball match Sunday. Losing Alexis Stuckey midway through the second set was a major blow not only to the team strategically, but mentally. But the Gators had a chance up 10-8 in the final set and just fell short against the No. 1 team in the land. You could see why Wisconsin is the team to beat.
17. It was also great to see Anthony Richardson score two touchdowns and sad to see he had to leave the game with a concussion. This is going to be an ongoing issue for the Colts, who want to cut him loose and also keep him protected. Anyway, prepare for round two of Minshew Mania.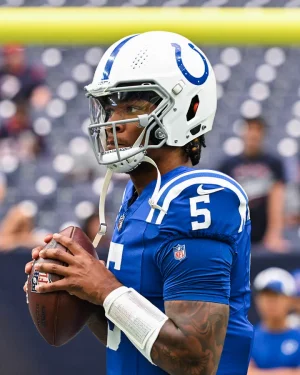 18. It was also great to be in the stadium for "I Won't Back Down" and see those cell phone lights dance. Let's just go all Thomas Earl Petty for this playlist:
 "Crawling Back to You." It feels like for the last two weeks that song comes on one of my Sirius channels at least once a day.
https://www.youtube.com/watch?v=AQsqMndoM9E
"Leave Virginia Alone" which is so typically Tom.
https://www.youtube.com/watch?v=Vw_nxXpcXXc
And finally, "Wake Up Time" which I used to sing to my daughter, Kelsey, every morning.
https://www.youtube.com/watch?v=DF90YDYAI9c