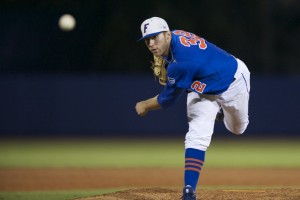 The top ranked Florida baseball team won the rubber game of their three game series, 6-3, against the Georgia Bulldogs on Sunday. The Gators have now won their last six regular season series against the Bulldogs, a streak that began with Florida's sweep back in 2007.
Florida Junior RHP Hudson Randall made his first start on Sunday after being sidelined from injury. Florida coach Kevin O'Sullivan says he likes the fact Randall went out and competed and had a live arm.
Florida Junior Catcher Mike Zunino says Randall's return to the mound bodes well for the Gators and their rotation.
The Gators turned to the bullpen after Randall went three innings. Florida sophomore righthander Karsten Whitson picked up his second win of the season in relief and junior southpaw Steven Rodriguez came in to set up for junior righthander Austin Maddox.  Maddox was able to convert his eleventh save in as many chances.
O'Sullivan says he likes Florida's chances when he calls upon the services of Whitson, Rodriguez and Maddox to close out a game.
Florida senior outfielder Daniel Pigott made sure his pitchers had some runs to work with; he blasted a three run home run in the bottom of the sixth inning to break a 3-3 tie and the Gators never looked back. Pigott says he was looking for a pitch he could drive.
Sunday's win was the 18th comeback win for the Gators this year as Florida improves to 11-7 inthe SEC and to 31-9 overall. O'Sullivan says his team's win over the Bulldogs was big and keeps them within striking distance in the SEC.
The Gators are two games behind the Kentucky Wildcats for the lead in the SEC. The South Carolina Gamecocks are tied with Florida for second place in the conference.
The Orange and Blue will welcome the USF Bulls to McKethan Stadium on Tuesday night. You can catch the game on WRUF Sports Radio 850 starting at 7pm.
***For Complete Photo Gallery of This Weekend's Action of Florida vs. Georgia on the Diamond, click here….
http://www.wruf.com/headlines/2012/04/21/photo-gallery-florida-baseball-outlasts-georgia-3-2-in-16-innings-in-friday-night-opener/
Photos: By Christine Casey