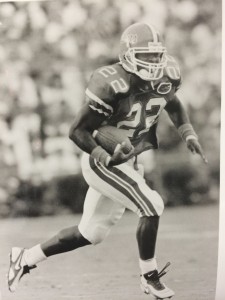 Gator great and ex-NFL player Terry Jackson was destined to be a Florida Gator. A native of Gainesville, Jackson grew up in a Gator household. To be more specific, he grew up in a house where both his father and older brother played football for the Gators.
His father, Willie Jackson Sr., was one of the first two African-Americans football players to suit up for Florida in the early 70s.
When Jackson was younger he didn't understand the significance of this because he just saw men playing football and not the color of their skin. But, as the years have gone by, he has begun to appreciate what a milestone this represented.
"It was pretty cool. When you're younger you don't grasp the total perspective. As I've gotten older, you kind of see how the world is and your experiences. It has a bigger meaning," said Jackson. "Every day you realize the things and struggles and challenges that they went through during those times; it makes you appreciative for the times and the opportunities that you have. Especially knowing the things that people had to go through and knowing that they didn't have those opportunities."
Following in his father and brother's footsteps with the Gators, Jackson came to Florida after a successful high school career at P.K. Yonge. As a member of the Blue Wave, Jackson won a state title with the basketball team and was a standout multi-position player for the football team.
After his high school career was over, Jackson received scholarships offers from various prestigious football programs, including an offer from the ol' ball coach at Florida. For someone raised to cheer for the Orange and Blue, the decision was an easy one.
"I'm from Gainesville. I went to school at P.K. Yonge right across the street so it was a foregone conclusion that I wanted to be a Gator. You could say I bleed Orange and Blue. This is all I've ever known. I had other offers- I almost went to Duke- but it was tough for me to go to another school and be rooting for the Gators. This is where I wanted to go," said Jackson.
Arriving on campus in 1994, Jackson immediately felt at ease in Steve Spurrier's program. Wearing number 22, just like his father and brother before him, Jackson stopped switching positions and was moved to the offensive side of the ball as a running back in 1995 after redshirting his freshman year.
Success came quickly for Jackson and the Gators. In 1995, Florida won the SEC crown. Not only did they repeat as SEC champions in 1996, but won the National Championship title as well.
"It was a great experience. Anytime you're at a program that's successful and winning, and around people who are successful and winning, it make that experience better and a lot more enjoyable. It's something that you learn a lot from, and something that you treasure over the years," said Jackson.
To cement his legacy even further, Jackson was selected in the fifth round by the San Francisco 49ers in the 1998 NFL draft. He spent seven seasons with this historic franchise where he was utilized as a tailback and a special teams player.
The chance to play at the highest level had been his dream since he was young, yet the moment he left the Gators was "bittersweet."
Still, perhaps the most drastic change was geographical; a change the Gainesville native enjoyed, but that had his pocket suffering quite a bit.
"The bay area was expensive, very expensive. Beautiful weather though, said Jackson. "It was night and day going from Gainesville, Florida to a multi-cultural place like Santa Clara, California, but it was a great experience."
When his NFL career ended in 2005, Jackson's life took an unexpected turn. Then Florida football head coach Urban Meyer called him up to serve as Director of Player and Community Relations for the football staff.
The decision to come back to the team he loved for so long wasn't tough. It wasn't even something he questioned. He knew he wanted to be in Gainesville and give back to his alma mater.
Jackson was coming home, and his job meant he would be the man current players would look up to. He was going to be a voice for those striving for their dream of being professional players; a dream Jackson experienced firsthand.
"That's what it's about, that's why I'm here. My job is to be able to share that perspective of having done anything and everything they possibly are going to want to do. Having that experience is very invaluable to help them deal with certain kinds of things. Having somebody who is already done and dealt with those pressures, those stressful situations; any of those things that they could possibly go through", said Jackson.
Though he no longer wears a uniform, number 22 can still be found on the sidelines during every game and cheering for the team he grew up loving.
Terry Jackson has made the journey back home.
"It's like I never truly left," he said.