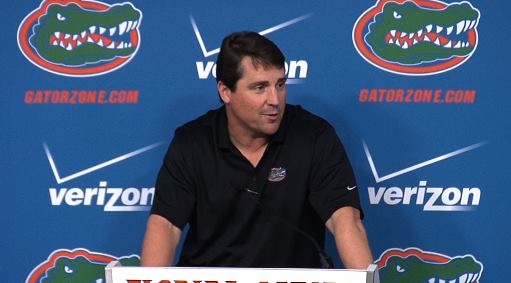 On Tuesday, Florida football coach Will Muschamp released the depth chart for the season opener against Idaho on Saturday. The biggest question mark for many was who would be named the back up quarterback to starter Jeff Driske; Muschamp chose to go with true freshman Treon Harris over freshman Will Grier.
"The back up quarterback will be Treon Harris going into this game," he said. "There was really no separation from the back up standpoint. We met through the weekend and talked moving forward and felt like Treon had some things he could provide for us offensively. "
As for the other back up quarterbacks, Muschamp said they would keep taking reps.
"No decisions have been made [about redshirting] Will Grier, Skyler Mornhinweg or anyone else. All of those guys did some good things and we're gonna move forward from week-to-week on that situation there."
Another decision that has yet to be decided is who will do the kicking and punting. Austin Hardin and Frankie Velez are competing for the starting kicking position, while Kyle Christy and Johnny Townsend are competing at punter.
"We haven't really decided yet, as far as Austin or Frankie who will kick. I have confidence in both guys who had really strong camps. We can win with both guys I do know that," Muschamp said. "We haven't made a decision on the punter yet, as far as Kyle and Johnny. We'll punt through the week and see where we go there."
The only player that Muschamp mentioned who could be questionable for Saturday's home opener is defensive back Marcus Maye. Maye is suffering from a hamstring injury.
"He will not practice today, but we hope to get him back tomorrow," he said.
Another surprise on the depth chart was at the tight end position. Clay Burton was named the starter ahead of Virginia transfer Jake McGee. Many thought McGee would get the starting nod, but he is expected to be involved in most passing situations.
Continuing on the offensive side of the depth chart, Matt Jones, Kelvin Taylor, and Mack Brown will all split the running back duties.
At the wide receiver position, Quinton Dunbar, Latroy Pittman, and Ahmad Fulwood earned the starting receiver spots.
Switching over to the defense, Muschamp feels pretty confident about the defensive line and linebackers. He also revealed who will start in the secondary.
"Defensively, our front seven I feel pretty solid with where we are on the defensive line, the four linebackers I've talked pretty extensively about through camp," Muschamp added. "Secondary, Vernon Hargreaves, Brian Poole, Jabari Gorman and Keanu Neal will start in some form or fashion. "
In addition, Muschamp noted that nine true freshmen and eight or nine redshirt freshmen will play on Saturday against the Idaho Vandals. He mentioned Idaho, who went 1-11 last season, does a good job of mixing up pressure on the defensive side of the ball, but also praised their offense.
"Offensively, very similar to what [Bobby Petrino's] done before. They're going to be very balanced in what they do in the run and the pass game with Paul. They do a nice job of free releasing the backs in a lot of situations and getting five out. You have to make sure you're covered down on every one. They create a lot of explosive plays because of that."
 "We're young in the secondary so we have to make sure those guys have their eyes where they're supposed to be and cover down on the guys as far as the receivers are concerned," Muschamp said.  "They have some explosive players. They have nine players from the state of Florida. So we need to go play well."
The Gators will get their first chance to "play well" in front of their home fans on Saturday night when their 2014 season kicks off at 7PM.
For audio on above quotes, click below:
Muschamp names Treon Harris as the back up QB
Muschamp on the other back up QB's
Muschamp on injured Marcus Maye
Muschamp on who will start on defense
Muschamp undecided on the kicker and punter