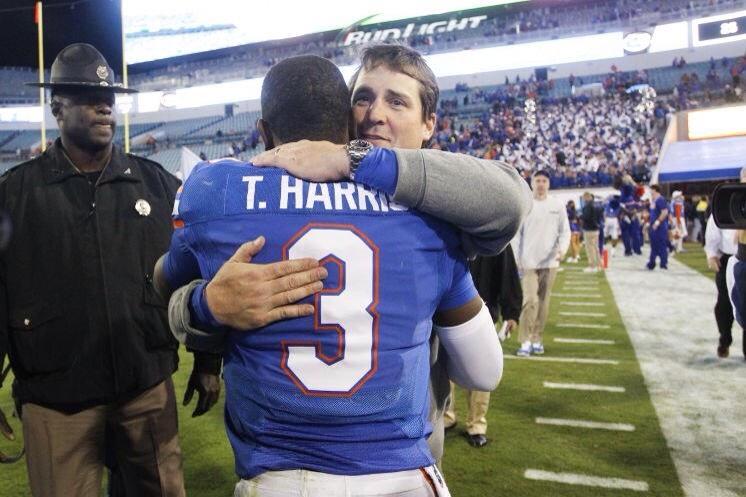 Will Muschamp, who has been the Florida Gator head football coach for the last four seasons, carried himself with pure class and integrity as he discussed his dismissal, moving forward, and the future of the Florida football team during a Monday press conference.
But that's no surprise, that's just the type of man Will Muschamp is, and those who have worked with him can attest to it.
"From my perspective as president, I have treasured, literally treasured, the last four years with Will," University of Florida president Bernie Machen said. "He was asked to come here and build a program. A program built on character and good academic values. He was asked to develop young men that would be a credit to the Gator Nation. He has done that."
"He gave his heart and soul to this program, he loves this university; as you all know he grew up following the Gators, he loves the Gators, and everybody in the program was in the fox hole with him," UF Athletic Director Jeremy Foley added. "We respected him as a coach and as a person, and he respected all of us for the support we gave his program.  He is as fine of a person as you could ever meet and a friend to all of us. Will Muschamp is a good, good person."
However, as much as everyone would have liked for him to, he was unable to win enough games to keep his job. He was let go Sunday morning following Florida's 23-20 overtime loss to South Carolina. Muschamp took full accountability for the situation and feels that he has been treated fairly.
"I was given every opportunity to get it done here and I simply didn't win enough games, that is the bottom line. I'm disappointed that I didn't get it done and it is my responsibility to get it done."
"You can work really hard and you can be really diligent at what you do, but you have to have results in life," Muschamp emphasized. "Whether you're in the business world or whether you're in the coaching profession it really doesn't matter. Players tell me all the time, 'Well, I'm trying hard, well I know but you're not producing so we have to go with someone else. That's the message I have for the team – you have to produce in life. If you're a salesman you have to sell; if you're a football coach then you need to win, and that's the bottom line."
Meanwhile, Muschamp elaborated on how difficult and heartbreaking it is to leave his football team; the young men that he has instilled life lessons to about school, football, family and learning the importance of fighting through adversity.
Throughout the countless amount of hours on the gridiron, team meetings, the locker room, or on the bus, he emphasized on how he looks at this group of guys, as his own sons.
"I have great relationship with the guys on this team, and that's always tough. Whether it's the first year or the fourth year. It will always be tough to know that you won't be on the field with those guys again. These guys have given a lot to this University and we need to send them out the right way."
"They've done everything I've asked them to do, as far as on and off the field. I'm going to root for these guys as hard as anybody.  I want the University of Florida to be successful. I'll always be a Gator, unless I'm on the other sideline. I'll always want these guys to be successful in what they do and I'll always be there for them."
The players resonate with that relationship, and will always admire him for helping them become the young men they are today.
"He can touch each individual on a level deeper than football. I think that speaks to him as a man and who he is. Given the circumstances, everyone feels heartbroken that we've lost a mentor figure in our lives. He's not just a football coach to us," offensive lineman Chaz Green elaborated.
Muschamp added that he will remain at the helm for the squad's last-two regular season games against Eastern Kentucky and in-state rival Florida State.
"For the next two weeks, I'm focused on this football team before I even think about moving forward."
While the search for the next head ball coach is currently underway, Coach Boom left a message for whoever takes over for the Florida Gators.
"They've got a deep and talented roster. So don't let that new guy tell you he doesn't have any players. I'll tell you that right now. They've got some good football players in their locker room. Special place and special people, and I don't' leave with any regrets at all."
For audio on the above quotes, please click below:
Muschamp on his relationship with players
Muschamp's message to the team
Muschamp's message to the team