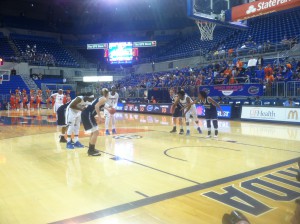 The Gator women's basketball team crushed the Longwood Lancers at the O'Connell Center on Monday afternoon 91-46 to win their second game of the season. The Gators were led on the offensive side of the ball by Forward Ronni Williams.
Williams had 19 points, five rebounds, two steals, and was a perfect 8 for 8 from the field.
"All my points came from the paint," said Williams. "My point guards and the other guards that are on the wing throwing it to me threw perfect passes, and I was able to catch it and finish."
Guard Carlie Needles also played extremely well for the team and added 15 points, three steals, and a team-high eight rebounds. At one point in the game, Needles hit three consecutive 3-point shots from the left wing.
"I don't prefer any particular side of the floor. But I thought that my teammates really looked for me once I hit the first one," said Needles. "They gave me the two second shots easily, so I think it was just my placement on the floor. It's not a favorite spot or anything like that."
Florida's 45 point win was as much of a display of the team's dominance defensively as it was on the offensive side of the ball. The Gators held the Lancers to just 19 points in the first half and forced them into 27 turnovers throughout the game.
Williams says she's not surprised to see them playing at such a high level defensively.
"Well, just like coach said, we've been working on Hector, which is the name of our defense, so just bringing that from practice onto the floor to perform has been natural."
Gator coach Amanda Butler says she's glad that the players have bought into her defensive system.
"That's certainly what we had challenged the team to do…to step up and be a better defensive unit, to really take pride in establishing themselves in Hector. It's something we've been talking about for a while now and I was just really pleased with the way they responded," said Butler.
The Gators will try to win their third game of the season when they face St. John's Red Storm this Thursday in Queens, New York.
Listen to audio clips mentioned above:
Williams talks about team defense