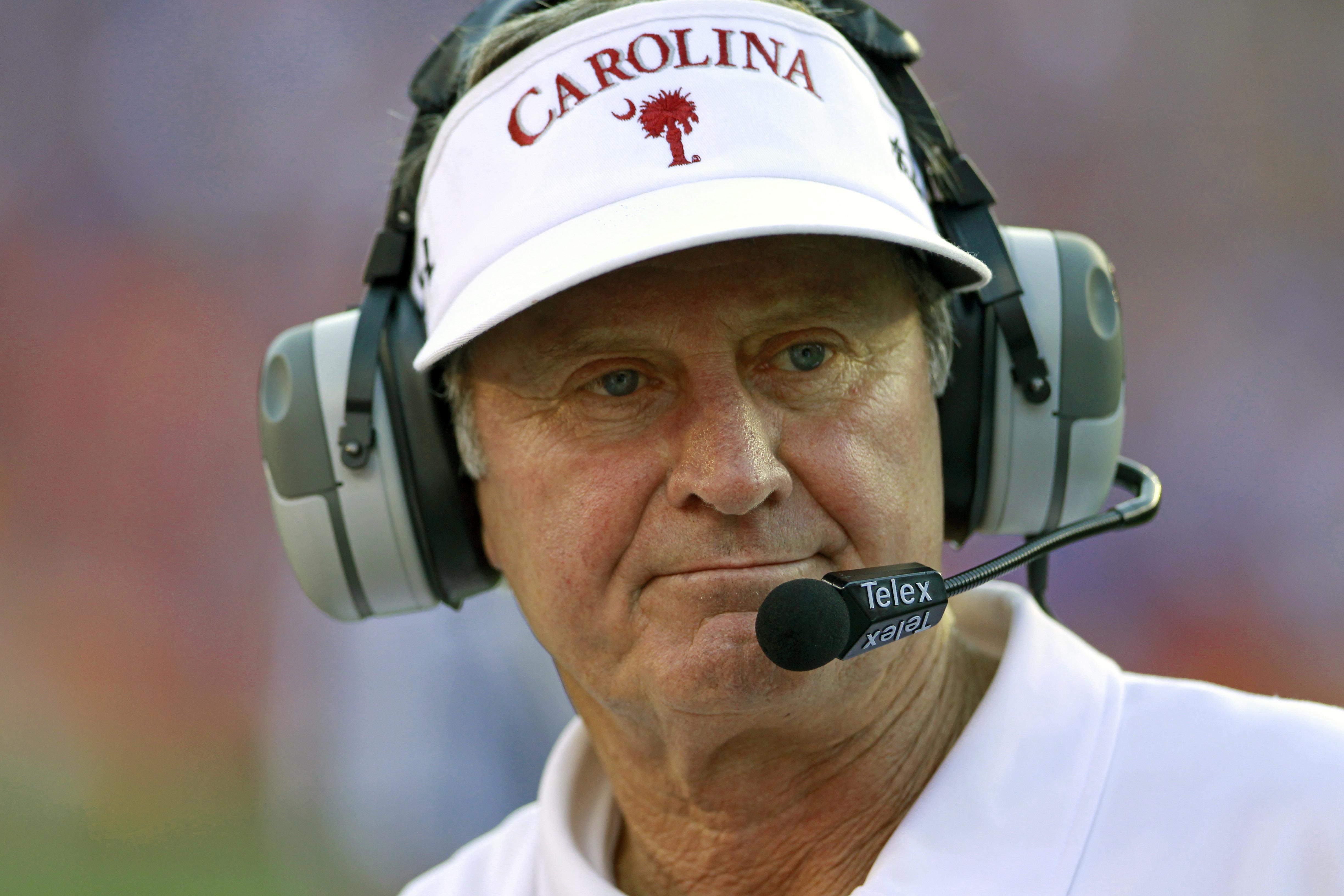 The Old Ball Coach in his natural habitat
It's hard for any seasoned college football fan to imagine that Steve Spurrier is now coaching in his 70s. Spurrier turned 70 years old in April and is entering his tenth year at South Carolina.
Don't let his age fool you; the old ball coach is not going to slow down by any means. His admiration to reach the mountain top of the college football world is still high. Spurrier said so himself recently at SEC Media Days.
"We still have lofty goals, but we really need to return to being a top ten team. I don't think we are too far away from returning to that."
2014 was a turnover year for the South Carolina Gamecocks, finishing 7-6 (3-5 SEC). Two of the best players in program history left, defensive tackle Jadeveon Clowney and quarterback Connor Shaw.
The run and gun offense seemed like it didn't miss Shaw in 2014. Dylan Thompson had a 140.4 passer rating with over 3,000 yards, ranking 22nd in the country in pass yards per game. Mike Davis was just shy of 1,000 yards rushing and accounted for 48 percent of the total run game. However, both those players are in NFL uniforms now.
Brandon Wilds finished with 570 yards on the ground last year and is the most experienced running back returning. As for the quarterback position, there is a three-way race between Connor Mitch, Perry Orth and Michael Scarnecchia. Spurrier proclaimed the battle for QB-1 is ongoing.
"It's pretty much wide open. If Connor Mitch is the best, which he easily could be, then he'll be the starter. But we believe in letting every player earn it and go from there."
The offense won't feature entirely new personnel. Wide receiver Pharoh Cooper is returning with vengeance. Cooper was an All-SEC receiver last year and finished with over 1,000 yards receiving and nine touchdown grabs.
"We are pretty young on offense. New running back, quarterback, a couple of linemen, young at receiver—besides me none of them really have much experience," Cooper said. "But we have been working hard all spring, in the summer we have been working hard. Overall, we will be ready on offense even though we are young."
The defense is what let down the Gamecocks in 2014. South Carolina barely made it into the top 100 in points against, ranking 91st while allowing 30.4 points per game. The loss of Clowney made the difference, but Spurrier takes responsibility.
"We did not play well defensively. Probably more my fault than anybody's. So we made a few changes."
The changes included bringing in Jon Hoke to co-defensive coordinate with Lorenzo Ward. Hoke is a 32-year coaching veteran who has been a college football journeyman, coaching at seven different schools including Florida at the tail end of Spurrier's coaching tenure. He has coached in the NFL with the Houston Texans and Chicago Bears since 2002.
The Gamecocks will begin their season on neutral ground against the North Carolina Tar Heels. The Gators will have to make a trip to Columbia in mid-November to face the Gamecocks on the road.
For audio clips of quotes above, click below:
Spurrier wants to be in the top ten once again
Spurrier admitting the QB battle is wide open
Spurrier did not play well on defense last year