With their victory over Toronto, the Golden State Warriors set the record for the best-ever start by a professional team in American sports, and they don't plan on stopping there.  The Warriors are now 22-0 on the season after taking down the Brooklyn Nets.  Golden State interim head coach Luke Walton says it is great that what the team has done will go down in the record books.  The star of the team, and arguably in the NBA as well, is no other than Stephen Curry.  Curry currently averages 32.4 points per game, 5.8 assists per game and 4.9 rebounds per game.  He says his consistent shooting in practice enables him to be confident when he makes big shots during games.  When it comes to taking risky shots, Curry says he'll take the good with the bad and maybe even a shaking head from his coach if he misses.  Golden State has had some close games in the winning streak, only winning by three against Utah for example, but Curry says it's important to stay in the moment and to find ways to win.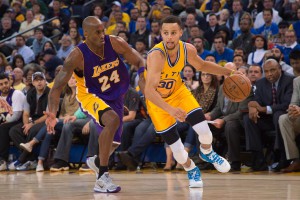 Looking like they are on their way to a superb regular season, Walton says the games they are playing now do not mean as much as the playoffs will.  Golden State seems to have strengths all over the court, but Walton believes the Warriors' biggest strength is their ability to come back and win a game.  Looking forward in their schedule, the Warriors next three opponents are the Pacers, Celtics, and Bucks.  Remaining undefeated in the NBA has been the big debate for Golden State, but Walton thinks it is possible to maintain their untarnished record.  He says the team doesn't want to face their first loss and this is what makes them play like champions each and every game.
Golden State's next opponent is a 12-7 Indiana team Tuesday night at 7:00 p.m.