After dominating Atlanta 34-3 in the NFC South Title last season, Carolina will play the Falcons once again.  With a 6-6 record, the Falcons are certainly not the game-favorite for this Sunday against the 12-0 Panthers.  Atlanta has lost their past five games against Minnesota, Indianapolis, San Francisco, and to Tampa Bay twice.
Falcons quarterback Matt Ryan might be without one of his elite wideouts, Julio Jones.  Jones is questionable for Sunday's game after a knee injury, but he says, "The knee is great…I don't think it's anything where I'm going to miss time," Jones told Michael Cunningham of the Atlanta Journal-Constitution.  Jones is currently the NFL receiving leader with 1,338 yards and six touchdowns on the season.  Ryan is aware of how elite the Panthers have been this season.  He says, "Obviously Carolina is a great football team and they have been playing awesome this year.  You have to give them their respect, but you know in this league, anything can happen any week."  Ryan has thrown five touchdowns and six interceptions in the past three games.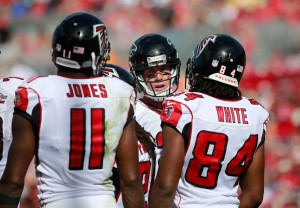 Predicted to be the NFL's 2015 MVP, Panthers quarterback Cam Newton will look to lead his team to another victory this Sunday.  Newton has thrown for 2,797 yards and 25 touchdowns.  Recently, Newton was suspected of having sustained a concussion during the Panthers/Saints match up where he threw for five touchdowns.  Though Carolina seems like a powerhouse on the offensive side of the ball, they have just as much juice on the defense.  Ranked third in total defense, Carolina has forced a league-high of 29 turnovers.  Defensive back Kurt Coleman has six interceptions so far, ranking him second in the league for picks.
The Falcons take on the Panthers Sunday at 1:00 PM.