March 14th was the date and 7 p.m. was the time for the NCAA Selection Show to showcase the teams in the 2016 NCAA Division 1 Women's Basketball Tournament. The Gator women's basketball team earned the fifth seed in the Sioux Falls Region and will battle it out against 12th-seed Albany (NY) on Friday, March 18th, in the Carrier Dome in Syracuse, New York.
"Monday Blues" could be used to describe the atmosphere in Gainesville, but in a different context. Florida was accompanied by 150 invited fans and family members in the Gator Room, to watch the Selection Show on ESPN. The Gators were dressed in blue from head to toe and the entire room erupted as Florida's name was announced on the big screen.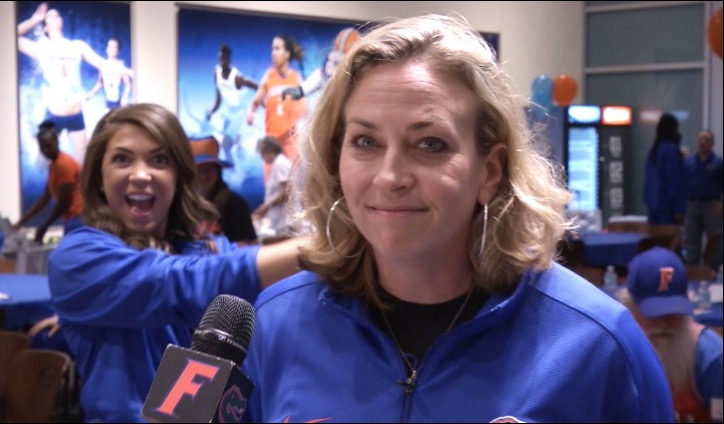 This postseason berth marks the 21st time in the last 24 years that the Gators have been in a postseason tournament.  With Coach Amanda Butler calling the shots, the Gators have taken a visit to the postseason eight of her nine years at the helm, and Butler become the first ever Florida coach to lead the program to a post-season appearance in each of her first seven years.
The Gators didn't have enough bite to make into last year's tournament. Amanda Butler says last year's disappointments allows the team to appreciate this go around so much more. 
Florida has spent this "off time" preparing mentally, physically, and emotionally for what the NCAA Tournament has in store. The team has regrouped, after the loss to Kentucky in the SEC Tournament, and reinforced the bond that was established in the beginning of the season. With team workouts including boxing and bubble-ball, the Gators are sporting a new attitude because it's a new season…the post season. 
Senior January Miller advises her teammates to be prepared for anything during this month of March Madness. 
The tickets are punched in and the dust is being knocked off of the dancing shoes because every team is ready to dance like it's 2016.
The Gators will face off against the Great Danes at noon on Friday, and it will be televised on ESPN2. The winner of this match up will go to the second round to face the winner between fourth-seed Syracuse and 13th-seed Army.