GAINESVILLE, FL– After a rough, inconsistent end to the 2015 season the Florida Gator offense has been faced with a ton of questions and unknowns heading into spring practice. Yet, in the midst of week three offensive coordinator, Doug Nussmeier is optimistic about Florida's young offense in transition.
Quarterback Battle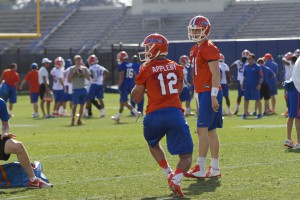 Since Florida will not return their starting quarterback Will Grier (transferring) and Treon Harris will be switching to the wide receiver position, the quarterback job is up for grabs. With that being said, Florida has a group of new quarterbacks ranging in experience levels. Luke Del Rio, a former Alabama QB and transfer from Oregon State, is flourishing having been in the system and on the Florida scout team last season. Austin Appleby, transfer from Purdue, has also been getting recognition from Coach Nussmeier who stated he has done a really good job thus far in spring and his in game experience will be an advantage for him. Kyle Trask (Fr.), Feleipe Franks (Fr.) and Harry Gornto V (Redshirt-Fr.) round out the quarterbacks in contention for the job.
Coach Nussmeier also spoke on the development of the offensive line, stating that the group has a long way to go and is currently trying to find their identity. Yet, he also stressed that they have the ability and talent to be very fast and explosive.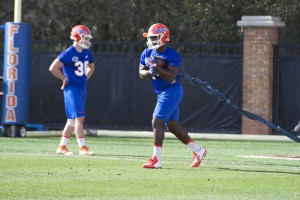 The running back position also seems to be making some noise as the Gators welcomed Mark Thompson, a top rated running back from Dodge City (Kansas) Community College. Thompson has been turning heads and has said to be improving immensely so far this spring. It will be interesting to see who gets the most carries next season as Thompson will be joining rising sophomore running backs Jordan Scarlett and Jordan Cronkite.
The tight ends are said to have been improving significantly footwork wise and focusing more time on perfecting their blocking.
According to Coach Nussmeier, one of the Gators spring goals is to be great in verbal and nonverbal communication. Florida hopes through communication and hard work the team will be able to build chemistry and become more consistent. This years Gator offense provides depth at each position which creates competition at every practice.
Fans will be able to see just how competitive spring practices have impacted the Florida offense April 8 at 7 p.m. in the Orange and Blue Debut.