Sunday's game tied, made and broke records. The last time the Warriors won at San Antonio was on February 14, 1997, when the Warriors snapped a 33 game losing streak. Klay Thompson is glad to finally have that record broken. A little over 18 years later, the Warriors are one of the best teams in the NBA. They are first team not to have lost consecutive losses in a season.
The biggest record of all is being tied with the 1995-96 Chicago Bulls for the most regular season wins. Not only is this one for the record books, but it's also personal for some players. Curry remembers watching his father play and how people knew when the Bulls were coming to town. He would wait in hopes that some of the Bulls players would cross his path in the tunnels. At the All-Star game this year, Micheal Jordan told Green to go out and break the record his team set back in '96.
#DubNation!!! pic.twitter.com/jgHshRGWpH

— GoldenStateWarriors (@warriors) April 11, 2016
The Warriors ended San Antonio's 48-game regular season home streak with a 92-86 win Sunday night. Stephen Curry was doing Stephen Curry things by scoring 37 points and having five rebounds on the night. Before the game, Curry told his team to go out and take the game.
The Spurs took a quick 5-0 lead, but the Warriors didn't let them get too far ahead. Stephen Curry scored seven points in the first quarter, including a three-pointer and two free throws. Draymond Green also scored six points, but the first quarter ended with the Spurs having a 19-14 lead.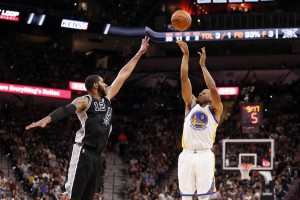 Golden State came together and had eight assists in the second quarter. Curry had three, Andre Iguodala and Kawhi Leonard both had two and Green rounded it out. The Warriors were trailing until there was about three minutes left in the quarter. Golden State and the Spurs were left at a 35-35 tie at the half.
Entering the fourth quarter, the Warriors were trailing 61-62. Scoring 10 points in the first five minutes, Golden State took a 73-69 lead. The Warriors kept adding on points, including 10 from Curry to end the game 92-86.
Although tying the 95-96 Bulls record is an accomplishment in itself, Green and the Warriors are looking to break it with win number 73.
The Warriors have one shot to win number 73 and it will be in front of their home crowd. Golden State will return to Oakland on Wednesday, April 13 to take on the Grizzlies. These two teams last met in Memphis where the Warriors just edged the Grizzlies 100-99. Only time will tell if this run will end in a tie or as a new record.