With the first day of fall practices in the books, Gator football head coach Jim McElwain addressed media members earlier than expected on Thursday afternoon.
Coach Mac says the first team drills of fall ended early today because of an "outstanding" practice pace, citing the importance of veteran leadership as he enters his second season at the helm of Florida football.
The Gators are ranked 25th in the Amway Coaches Poll, marking the first time they've entered the preseason rankings since 2013.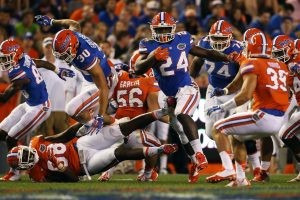 McElwain says players always bring great energy to the first day of practice, but the little things – like athletes showing up early, make the true difference.
The question on everyone's mind; how will the Gators fair under center this season?
McElwain says all four of his quarterbacks threw the ball well in practice, and he made sure to comment on each having an impressive work ethic in the weight room.
However, without full pads in early practices, McElwain says Florida needs a quarterback who can handle the position's mental aspect – changing plays at the line of scrimmage if necessary. In regards to last season, McElwain says there's no doubt about it, the Gators are more poised at quarterback.
Fresh off of a spring football suspension following December's unspecified conduct case, Gator star wide receiver Antonio Callaway took the field today after being cleared to practice and attend classes in June. However, it's yet to be seen if he'll return in time for September 3rd's season opener against the visiting UMass Minutemen.
According to McElwain, Callaway hasn't missed a beat, and it's great to see him back again after setting the program's first-year freshman record with 678 receiving yards.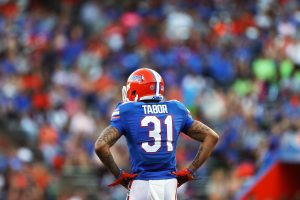 Defensively, McElwain likes what he's seeing out of Florida's pass rush. A crucial part of success in the SEC, Florida's 40 sacks landed them second only to Alabama in the 2015 conference rankings.
Those SEC rankings also reflect a ball-hawk style of play – Florida's defense tied for third and first, respectively, with 14 interceptions and 11 fumble recoveries.
McElwain says he's also impressed with the team's size and length on the field as they prepare for the 2016 season.
https://twitter.com/GatorsFB/status/761184171700215808