After suffering a stress fracture in his foot, Devin Robinson is  looking forward to his return to the Florida Gators this upcoming season.
Injury Woes
The 6-foot-9 forward averaged nine points and 5.6 rebounds, and started 18 games last year. However, Robinson is currently rehabbing from a stress fracture in his foot. He had surgery to repair the fracture this past April. Robinson said he was scared when he first learned about the injury, but he had to accept the diagnosis  in order to move forward with the rehab .
Getting my mind and body right

— Devin Robinson (@drobbb3) October 2, 2016
Although he still feels aches and pains, he feels he's come a long way. Robinson went on to say he sometimes wants to rush the rehab to be with his teammates, but he trusts the athletic trainer and coaching staff's plan to bring him along .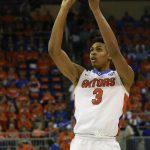 When Robinson returns, he will be a huge part of Mike White's plans going into his second season as the Florida Gators head coach. He has made the most of his time rehabbing by improving his shooting, which will help Mike White and the Gators.
Gators Center John Egbunu has also been rehabbing over the offseason. Egbunu tore a ligament in his thumb in the SEC Tournament and had surgery to repair the torn ligament. Robinson said Egbunu and himself rehabbing together has made them closer.
Both of them are focusing on being completely healthy, as they are focal points to Florida Gators basketball.