In the 2015-2016 NFL season alone, players suffered a total of 199 concussions on the field, according to a PBS Frontline study. One of the most common treatments for concussions and post-concussion syndrome pain in the NFL is opioid pain medication, which has led to opioid addiction in some cases.
Pain Treatment
Opioids have been on the front lines of pain treatment for years, but a new option may be on the market soon for concussion patients. Florida's Amendment 2, or the Florida Medical Marijuana Legalization Initiative, is on all Floridians' ballots in the upcoming November election.
Could marijuana protect against traumatic brain injuries from concussions? https://t.co/eJaxH8ZSjOhttps://t.co/tJxfxsOiZ2

— Katie Couric (@katiecouric) June 23, 2016
A study from the University of Queensland showed that prescription painkillers accounted for more deaths worldwide than marijuana, cocaine and heroin. An additional study conducted by researchers at Washington University in St. Louis found that of the 52 percent of retired players who used prescription pain medication, 71 percent of those players admitted to misusing the drug during their athletic careers.
While the current amendment only allows those with debilitating medical conditions such as cancer, epilepsy, and glaucoma to be prescribed medical marijuana, the amendment allows licensed state physicians in the future to also prescribe the drug to those with "comparable debilitating conditions," according to language on Amendment 2.
Eugene Monroe advocates for responsible marijuana use in NFL https://t.co/02jbWgPuHV

— ESPN NHL coverage (@ESPN_NHL) September 25, 2016
Long Term Risks
One of the long-term risks of concussions is the debilitating, degenerative brain disease, CTE, or chronic traumatic encephalopathy. A study conducted by the National Center for Biotechnology Information finds that patients who have detectable levels of THC in their bodies have a lower mortality rate as a result of traumatic brain injuries.
Viable Solution?
While scientific breakthroughs have been made, some members of the scientific community are still torn on the details. University of Florida Distinguished Service Professor of Pharmacy Practice Paul Doering believes wholesale research needs to be done on the drug before the collective group can determine if it's a viable solution to help treat pain.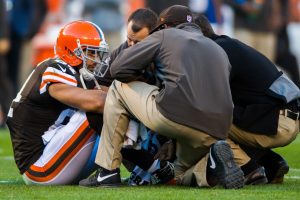 "Cannabis is a very tightly controlled drug under the regulatory framework of the federal government," Doering said. "That's made it very, very difficult for legitimate researchers to conduct the kind of studies that would provide answers to is this a good idea or not."
Doering has worked in the pharmacology industry since the 1970s. He still feels the need to see more concrete evidence on the topic before he can support either side.
"I've been around in the pharmaceutical world for 40 years, and I've seen miracle drugs come and go by the dozens," Doering said. "I want to see the proof."
Social Aspects
Aside from the medical aspect of marijuana, certain social taboos are still in place surrounding the use of the drug in sports. WUFT sports anchor Ryan Nelson discussed the legality of marijuana in the NFL.
"I definitely think there's a pre-existing marijuana culture around pro sports, and the reason that we know that is because players have been suspended for using the drug," Nelson said."
Even with consequences in place, Nelson believes that these athletes will do anything for an advantage on and off the field.
"I think players, no matter the arena, are always looking for the competitive edge," Nelson said. "If they believe that they can use the drug, marijuana, to heal more quickly, and to cope with pain and trauma suffered during whatever sport it is that they play, then I think that they would definitely consider that opportunity, even if it meant being suspended."
The NFL is showing genuine interest in medical marijuana and its potential to help current and former players. https://t.co/jcxrh6ogQj pic.twitter.com/WDN2clynbV

— HerDaily (@herdaily) October 20, 2016
So far, in the 2016-2017 season, 32 NFL players have been suspended or fined for violating the league's substance abuse policy on drugs and performance enhancing drugs. Cobi Silverstein, a diehard New York Giants fan and long-time NFL supporter, has no opposition to the alternative treatment.
"I could care less if NFL players are using marijuana," Silverstein said. "If it helps them recover quicker with less negative side effects, I'm all for it."