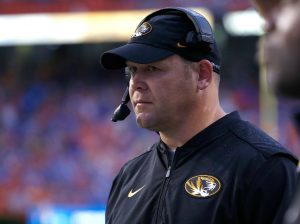 First year head coach Barry Odom has yet to lead the Missouri Tigers to a victory over a Power 5 team. The Tigers are 2-4 overall, and a 0-3 conference record makes Missouri the only winless team in the SEC. Last week, the Tigers lost a sloppy, 40-14 game to the Florida Gators; quarterback Drew Lock threw two pick-sixes and mustered only 39 passing yards. With questions about Missouri's effort being raised this week, coach Odom responded by saying the team rebounded well after their mistakes and put out the same effort as the Gators.
Middle Tennessee State is not a walk in the park
Coach Odom is more aware of the Blue Raiders' capabilities than most coaches. Before returning to Missouri, Odom spent three seasons as the Memphis Tigers' defensive coordinator. He has both coached and recruited against the Blue Raiders. Odom says he plans on practicing just as hard for MTSU as anyone else. After all, MTSU has the fifth passing attack in the country (in yards per game) and the 23rd scoring offense. Missouri has the 56th passing defense.
A loss could ruin Missouri's chance for a bowl game
With a 2-4 record, the Tigers need to win four more games to be bowl eligible. The last two games of the season will be away at Tennessee and at home against Arkansas. Meaning that these next four games (MTSU, Kentucky, South Carolina, and Vanderbilt) are must-wins for Missouri.
What to watch for…
QB Drew Lock had over 1,600 yards and a 7:2 TD-INT ratio before the Florida game last week. Missouri will need him to rebound in a big way to get the offense going again. Despite the horrific passing display, the Tigers rushed for 265 yards against the Gators. Running backs Ish Witter and Damarea Crockett each have over 300 yards rushing and three touchdowns on the season.
The Blue Raiders passing attack is led by sophomore quarterback Brent Stockstill, who is eighth in the country in passing yards (2,091 yards). When MTSU played Vanderbilt–the only Power-5 school they have played this season–Stockstill went 38-for-65, for 399 yards, and had 3 touchdown passes. MTSU has two star play-makers on offense: running back I'Tavius Mathers is the 16th leading rusher in the country and has the fourth most rushing touchdowns (10); while receiver Richie James has the seventh most receiving yards in the country (776).
Check the stats! Richie James (@RichardJamesII) is the real deal. #BlueRaiders pic.twitter.com/ItP6GBAS7V

— Middle Tennessee FB (@MT_FB) October 20, 2016
The game is scheduled for 4 p.m. on the SEC Network at Memorial Stadium in Columbia, Missouri.