The Orlando Magic (12-16) will look for their third straight win when they host the Toronto Raptors (18-8) on Sunday.
Reunion in Orlando
Sunday's Eastern Division match up will be the first for Bismack Biyombo and his former Toronto teammates.  The 6'9″ Congolese center helped his former team to make a surprise play-off run a year ago.  Along with DeMar DeRosen and Kyle Lowry, the Raptors went as far as the semi-finals last May, losing to eventual NBA champion Cleveland.
One love, family! Great to see the little man @kyle_lowry7 and straight outta compton @demar_derozan.. #Brotherhood https://t.co/Z8Ga9q0Nt3

— Bismack Biyombo (@bismackbiyombo) December 18, 2016
The former Raptors trio were essential to the team's success.  They weren't just teammates on the court; they consider themselves "brothers."  The bond between them was not even broken by Biyombo's move to Orlando.  But Sunday's game will be interesting to see how the 2-vs-1 dynamic plays out on the court.
Biyombo's defensive skills enable him to block shots, grab rebounds, and control the court for his team.  In his season with the Magic, Biyombo is only averaging about six point a game; his defensive stats are more impressive, with about eight rebounds a game.
Making Magic Happen
Biyombo needs to bring his defensive prowess and endless energy into Sunday's game.  Evan Fournier is coming off of a great last minute drive for the Magic during last Friday's game, when he made 11 consecutive points to win the game for his team.  He scored 33-points to help the Magic get the win.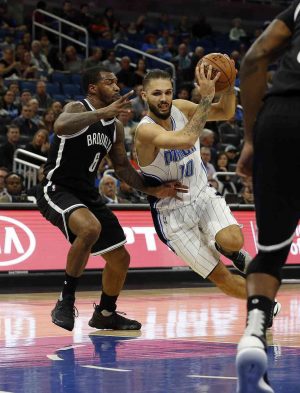 Despite his three-game injury rest, Nikola Vucevic looked solid against the Nets in the last game.  He managed 13 points in the first half, finishing the game with 21.  He has been good offensively this season and has done perhaps better as a rebounder.  He averages 10 boards a game to lead the team and that is also good for 10th in the league.
The Magic defense, with the help of Biyombo, needs to be explosive if they want to be Toronto.  The Raptors feature one of the best offenses in the league, which isn't surprising considering they are seated comfortably in second place in the division.  Serge Ibaka is another strong defender for the Magic and he also averages 15 points and five rebounds a game for Orlando.  Ibaka and Biyombo hope to give the Magic a strong one-two punch inside to help defeat the Raptors.
Coverage
Pregame coverage begins at 5:30 p.m. on FOX Sports Florida.  Tip off is set for 6 p.m.