The Florida Men's Golf team is geared up and ready to roll for their spring schedule after performing well this past fall. A bounty of young Gators are starting to emerge and they're guided by the constant, steady leadership of senior Ryan Orr.
Orr's Origins
Ryan Orr hails from Belleair, Florida and attended Clearwater Central Catholic High School(CCC). During his high school career, Orr displayed the same leadership he exerts to this day as a Gator. In 2012, he lead his team to district and regional titles. CCC head coach Tony Pasquine believes Orr's professionalism is nothing new.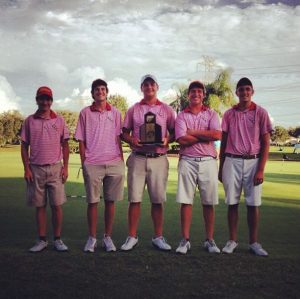 "Ryan's dedication and work ethic in high school were tremendous. He would shoot 72 in a tournament and then go straight to the range or putting green to work on his game. He was never satisfied, and always strived to be better. Ryan was a special individual. Not only on the golf course, but in the school and community as well." -High School Coach Tony Pasquine
Early Years at UF
In his first year as a Gator, Ryan tallied three top-25 finishes and competed in every tournament. As a sophomore, he was the only Gator to qualify for the last day of stroke play at the NCAA Championship. While these accolades are impressive, Orr wasn't content and he constantly works to improve every facet of his game.
I recently spoke with Ryan and he was quick to point out how much he's matured while at UF. He specifically mentioned the mental and attitude aspects of the game. In his first year or two, Orr says he was a little hot-headed but believes he has now truly embraced the "one shot at a time" philosophy.
Leading by Example
Orr says he needs to lead by example and be a role model to his teammates. Sophomore Blake Dyer believes he already does.
"He's a great leader for our team. He's always making sure we are on top of everything and making sure we are doing the right things. He definitely brings us all closer together." -Blake Dyer
Ryan certainly led by example on the course during his junior year. Last year he averaged a career-best average of 73.09 strokes per round. His year also included two top-10 finishes, the first two of his collegiate career.
Looking Ahead
While Orr recognizes his leadership role on the team, he also realizes he needs to keep improving if he wants to play in the majority of the tournaments scheduled for spring. The senior didn't qualify for the last two fall tournaments and he says it gives him incentive practice even more than he already does.
Ryan is focused on the upcoming slate of tournaments but he did discuss his potential post-collegiate plans. Ryan says following his final semester he will give himself a set time frame(about five years) to pursue golf professionally. The goal at the end of the five years is to be on the web.com tour. He also mentioned trying to work his way onto the Latina America PGA Tour and Canadian PGA Tour.
The team's young talent has gotten hot of late. The crop of young guns includes: Sam Horsfield, Gordon Neale, Jorge Garcia and Andy Zhang. Junior Alejando Tosti also captured an individual title in the fall at the Tavistock Collegiate.
This UF golf team definitely has the potential to be a special group of guys. Orr hopes to reach personal goals of playing in every tournament and capturing his first collegiate win. As a team, he believes this bunch has no limits. Ryan thinks this team can capture SEC and NCAA titles if they play the way they're capable of.
The team's first tournament of the spring will be on February 6 at the Sea Best Invitational.
Check out the full interview with Ryan below.