With impressive performances on both sides of the ball, the Florida football team (9-4) handed Iowa (8-5) a 30-3 beatdown in The Outback Bowl on Monday in Tampa. The Gators ended their season on a high note, which was absolutely necessary for second-year head coach Jim McElwain as he heads into the offseason.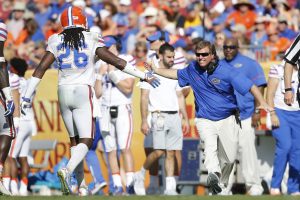 First Half
Florida's first two drives indicated a long day for the Gator faithful. Senior quarterback Austin Appleby's first interception came when a pass intended for Ahmad Fullwood was tipped into the air and caught by Iowa's Brandon Snyder.
Florida's defense responded with a three-and-out stop against Iowa. On Florida's next drive, Appleby threw his sixth pass and second interception of the day; another tipped ball, reeled in by Iowa's Desmond King. King was on his back when he made the interception after a defensive end tipped Appleby's pass.
That turnover led to Iowa's first points, a Keith Duncan  36 yard field goal.
The first glimmer of Gator offense came through the air, as Florida's third drive began with a 34-yard completion over the middle to a streaking Antonio Callaway. Appleby targeted Callaway four times in seven plays before the drive settled at Iowa's 26-yard line.
Eddy Pineiro tied the score at 3-3 with a 44-yard field goal.
The Hawkeyes and Gators traded punts before Iowa put together a promising 61-yard drive that ended on a failed fourth and goal conversion. After marching down to Florida's one yard line, tailback LeShun Daniels was met for a loss by Marcell Harris and a stout Gator defense. At halftime, Harris led all Gators with six tackles, including five solo wrap-ups.
"That was huge, coming up big at the goal line again," Gator coach Jim McElwain said, referencing Florida's fourth and goal stop earlier in the year against LSU that preserved a Gator win.
Big Plays
Jordan Scarlett broke free for a 46-yard carry on the ensuing drive, but Florida was unable to put points on the board. Both teams traded punts before Florida went up 10-3 with the biggest play of the game, an 85 yard catch and run by tailback Mark Thompson on a screen pass.
Second Half
Iowa opened the second half with a 63-yard drive, but Keith Duncan left the score at 10-3 after his 30 yard field goal attempt sailed wide right.
Florida got the ball and used 12 plays to cover 80 yards, capped off by Appleby's second passing touchdown — a six-yard strike to a wide open DeAndre Goolsby. Appleby finished his last game with 222 yards after going 14-for-25, along with two touchdown passes and two interceptions.
Down 17-3, Iowa quarterback C.J. Beathard took the field and began his fourth quarter with a pick six. Florida went up 24-3 when defensive back Chauncey Gardner Jr. located a tipped pass across the middle and returned it 58 yards to the house.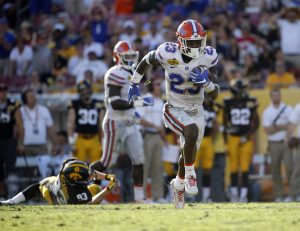 Gardner wasn't done. After a pair of punts from each team, the true freshman read Beathard's eyes again and returned his second interception 30 yards. The turnover put Pineiro in range, and the Gators extended their lead to 27-3 after the 25 yard chip shot.
Gardner's pair of picks earned him Outback Bowl MVP honors, but he thought Florida's whole defense was more deserving of the award.
Beathard threw a third interception as senior linebacker Daniel McMillian came down with an easy takeaway and a 23 yard return. Freshman Jabari Zuniga was credited with the quarterback hurry, but all three of Beathard's turnovers were created by defensive pressure.
Pineiro again put points on the board after nailing a 48-yard field goal to seal the score at 30-3.
From Coach Mac
McElwain said the Gator defense executed interim defensive coordinator Randy Shannon's game plan, and Florida's preparation helped limit Iowa to three points.
When asked what this win means for the program, McElwain responded optimistically. "We've got a lot of really good recruits that are excited to be Gators, and that's a good thing," he said.
What's Next
Now, the Gators look to hit the recruiting trail to reel in more talent with national signing day on February 1.