The Miami Heat have been on fire lately, winning nine straight games. Last night, the Heat added another W to  their streak by beating the Atlanta Hawks 116-93 in Miami.
Game Recap
The Heat started off slow, letting the Hawks lead the first 9:38 of the game. But when the match was struck, the Heat were instantly ignited and took complete control of the game. The Atlanta Hawks never reclaimed the lead from that point on. Dion Waiters was 50% from the 3 point line with two threes made. Hassan Whiteside also had a big game, notching his 30th double-double this season with 18 points and 18 rebounds. He was also able to reach the 2,000 rebound mark during the game. It's clear the Heat came to play last night, and Goran Dragic stole the show with his 27 points to help Miami derail the Atlanta Hawks.
.@Goran_Dragic turned in his 4th straight 20+ point performance last night vs the Hawks! pic.twitter.com/wdLN3WurzI

— Miami HEAT (@MiamiHEAT) February 2, 2017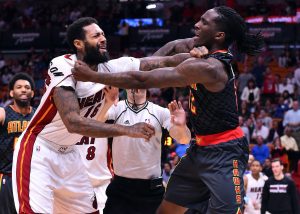 The Hawks struggled throughout the game. Their top three scorers Paul Millsap, Dwight Howard, and Dennis Schroder had a combined 27 points. The Hawks were clearly frustrated and it started to show late in the fourth quarter. Miami's center Hassan Whiteside recovered a rebound and attempted to go for a put-back, but was snatched down from behind by Atlanta's forward Taurean Prince. The two teams then exchanged a few words and shoves, which resulted in Prince being ejected for a flagrant foul. James Johnson, who came in to defend Whiteside, was also ejected with two technical fouls.
The Streak
For Miami, a winning streak was necessary if they had hopes of reaching the playoffs. Before the streak, Miami had lost eight of their last 10 games leaving them at the bottom of the Eastern conference. That all changed when the Heat found their rhythm against the Rockets on January 13. Since then, the Heat's streak has knocked off favored opponents like the Golden State Warriors and the Chicago Bulls.
What's Next
The Heat will look to extend their winning streak to 10 games against the 76ers on Saturday. Tipoff for that game is at 7:30 p.m.