In the early hours of the 2016-2017 NBA season, newly-adorned Orlando Magic head coach Frank Vogel preached the idea of a new identity for the team. Based on his previous successful campaigns with Indiana, Vogel talked about defense.
And then Vogel showcased his love for the principle of hard-nosed defense by grabbing two stalwarts at that end of the court. Both forward Serge Ibaka and center Bismack Biyombo gave the team new life, filling main defensive lapses. However, signing the two made the frontcourt an automatic logjam, with Nikola Vucevic, Jeff Green and Aaron Gordon entrenched in the position as well.
Months later, the Orlando Magic seem to have abandoned that philosophy entirely, giving up 70 points in the first half en route to a 128-104 loss to the Houston Rockets.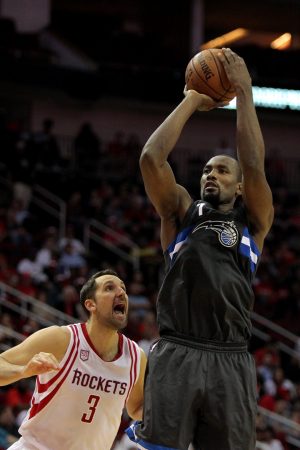 Orlando didn't have too hard of a time scoring, shooting 47% from the field and notching 104 points, they're defense was atrocious. The Rockets shot over 42% from the three-point line and 50% overall. Houston looked extremely comfortable on offense, getting 31 assists on the night, 13 of which came from All-Star James Harden.
The Rockets led by as much as 23 early in the game, punching Orlando in the mouth with fast-paced play. Although the Magic were able to cut the lead down to nine points later on in the fourth quarter, they never got any closer than that and Houston controlled the action.
Ibaka, who's been rumored to be on the trading block before the Feb. 23 trade deadline, led the way for Orlando. The big man had 28 points and eight rebounds on an impressive 13-of-20 shooting. Although the Magic weren't able to secure the win, they also showcased the value that the eight year veteran still has.
Sitting at 20-34, good for 13th in the eastern conference, the Magic must start considering the future when making deals that can effect the team dramatically. Nearly every player for the Magic has been subject to trade rumors, including Elfrid Payton and Nikola Vucevic.
Meanwhile, the Rockets improved to 38-17 after the victory. Last year, Houston only totaled 41 wins on the entire year, a mark they hope to meet before the All-Star break.
Trevor Ariza had 20 points for the Rockets, and Patrick Beverly added 14 points and seven assists. Eric Gordon had 18 points off the bench. For Orlando, Evan Fournier had 21 but only shot 1-for-8 from three, and Vucevic had 14 points while gobbling 19 boards.
LOOKING AHEAD
Orlando will go home to face the Philadelphia 76ers on Thursday night, while the Rockets go to Charlotte to take on the Hornets that same day. Both games tip off at 7 p.m. est.